Prof Christopher Abraham, CEO & Head of Campus (Dubai) - SP Jain School of Global Management, was invited to speak at the EComm MENA Conference held on April 24-25, 2019 at The Address, Dubai where he shared his insights on 'The Future of Marketplaces for E-commerce'.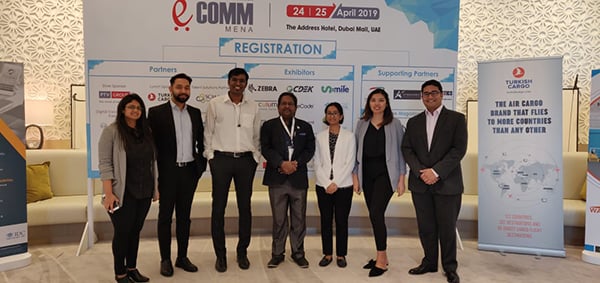 Prof Christopher Abraham (centre) with SP Jain student volunteers at EComm MENA 2019
GCC e-commerce is on the cusp of becoming the world's fastest growing market. However, this growth could come at the expense of traditional retail. As consumers become more tech-savvy and embrace e-commerce, e-tailers will have the first-mover advantage. Traditional retailers that took a wait-and-see approach will need to act now to reserve a share of this fast- growing market. An omnichannel approach with a strong online presence, robust payment mechanisms, and an efficient distribution and logistics network will put retailers on course.
The EComm MENA is a platform for people and companies who want to learn to attract more customers, identify strategies to increase market share and have an overall growth in their business.
Our Undergraduate and Postgraduate students also got an opportunity to attend and volunteer at the event and network with top industry specialists and leaders.