On 21 December 2017, SP Jain Global, together with Ketki Sen (Co-Founder and Adviser at Spinta Global Accelerator) were proud to host Blockchain expert, Mohit Mamoria for a guest session on Blockchain in Singapore. The event was attended by more than 80 people of various age groups.
In today's context, everyone needs to be tech literate. Mohit's mission is to get everyone to understand Blockchain and he explains it simply, demystifying it for the layman. The session communicated across different paradigms, allowing his audience to understand and feel comfortable asking questions around the topic.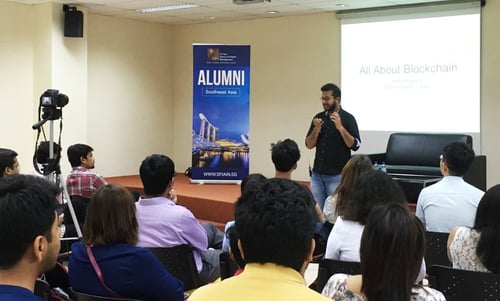 Dr. John Fong (CEO and Head of SP Jain's Singapore Campus) said, "SP Jain is a technology-led business school and hence we are constantly on the cutting-edge. This seminar is yet another example of how we educate our students while working in tandem with the industry. We are delighted at the overwhelming response and look forward to organising more of such events in 2018."
The highly engaging session on Blockchain and Cryptocurrencies was well received by both the students of SP Jain and other passionate individuals who wanted to learn more about the topic.
"My friends and I learnt a lot from Mohit about Blockchain and cryptocurrencies. We are excited to apply this up-to-date knowledge on this current technology to our future jobs!" - Abhishek Pevankar, Student, Master of Global Business.
The link to the live Facebook video can be found here:
https://www.facebook.com/spjainsg/videos/1953790064885029/
Topics: Global Learning at SP Jain, Blockchain