This 17 June, Friday, a group of Global MBA students were invited for a company visit to EMC. They were fortunate to have two senior members of the company guide the tour.
Mr. John Clifford, Senior Director of EMC Singapore, shares his experiences and insights about the company and how they do business in this global world. He spoke about how the company started with complete focus on hardware and moved onto software as the requirements around the globe changed, EMC had to keep up with the global demand. Mr. Wai who oversees the Logistics and Supply Chain for EMC in the Asia pacific region shares his insights on how they do business with their suppliers and their customers.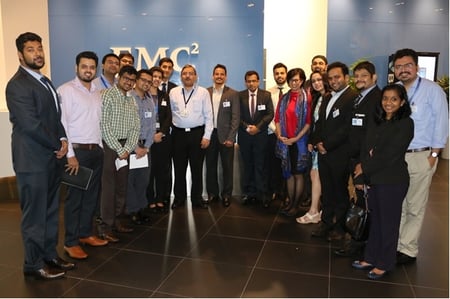 Highlights of the Tour
Mr. P.K Gupta, Senior Director of EMC shared his personal experiences in the IT industry. He has been in the industry for 30 years and has seen the whole era of digital millennium grow. He speaks about his passion for mentoring students and sharing knowledge. He gives recommendations and suggestions on books read to improve knowledge and widen thoughts in this constantly changing world.
Mr.Gupta also presented the key trending technologies through is concept of "COMB" - Cloud, Open Source, Machine language and Big Data. He feels students should have an expertise in at least one of this area to gain a strong technical hold to play a better consultant role. Moreover, he added that understanding customer requirement and creating specific applications is the need of time. But this adds to the complexity of the enterprise and so approximately 62% of organisations succumb to this issue of placement and managing of application in the enterprise. A walk through the EMC server room gave insight to fellow students as to how huge storage of data is done. The data centre had huge capacity to store data and replicate the same in case of disaster recovery
The Benefits of the Tour
Understanding the important technological trends in this growing world of IT has given the students a direction towards being technically strong in one of the "COMB" area. The presentation has helped some of them to know why enterprise fail when new applications are introduced in the existing architecture. it triggered a thought in some in taking this challenge as a topic of their research project. The visit to server room was very informative to know how data centres operate and what precautions should be taken to maintain smooth functioning of servers.
FinTech is now a hot topic and as a consultant having a technological edge is highly appreciated. Mr. Gupta explained "COMB" concept in the easiest way and urged non-IT students to polish their technology skill sets. The visit has broadened their insights to work towards big data and use the analytical skills to understand the common trend in banking and finance.