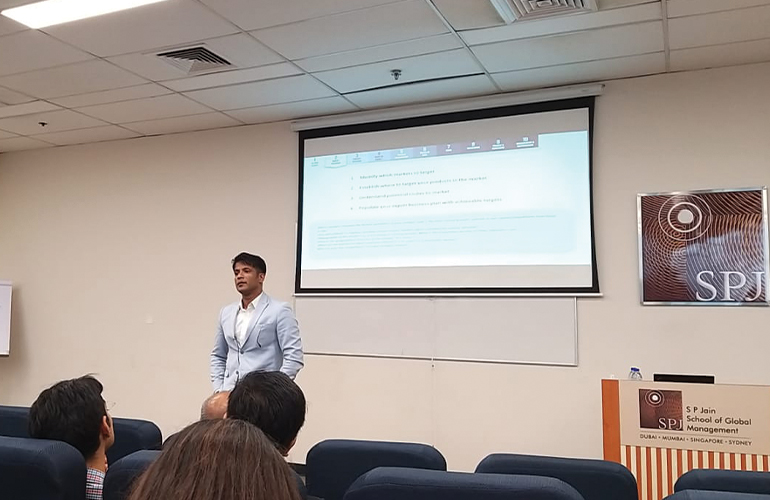 George Daniel, Head of Sales Operation – Asia, Southern and Eastern Africa, Coca-Cola – Aujan, conducted a guest session for our postgraduate students
George Daniel, Head of Sales Operation – Asia, Southern and Eastern Africa, Coca-Cola – Aujan, conducted a guest session for our postgraduate students
SP Jain School of Global Management organised a guest session by George Daniel, Head of Sales Operation – Asia, Southern and Eastern Africa, Coca-Cola – Aujan, for the postgraduate students of the Class of January 2019.
The session was held on October 10, 2019, at the Dubai campus and was attended by the Master of Global Business (MGB) and Global MBA (GMBA) students from all the specialisations as part of their global learning activity. They got the opportunity to learn first-hand from Mr Daniel's experience of working at Coca-Cola, the world's leading soft drink manufacturer. They learnt about New Market Entry strategies and how important it is to understand whether a business needs international expansion or not by considering questions like:
Is the Domestic Consumption good enough?
Are we ready in terms of Production Capacity, Human Resources and Package Sourcing?
Do we have money to invest in high-end markets?
Do we have a possible mindset to enter new markets and create new partnerships?
Mr Daniel spoke about how alcohol companies function differently from soft drink companies like Pepsi and Coke. Franchise Management plays an important role in assessing how much to invest and produce. Citing an example of Rani Float, a fruit-based beverage manufactured by the company, he explained how export markets have the advantage of bringing in new products that would work in local markets as well.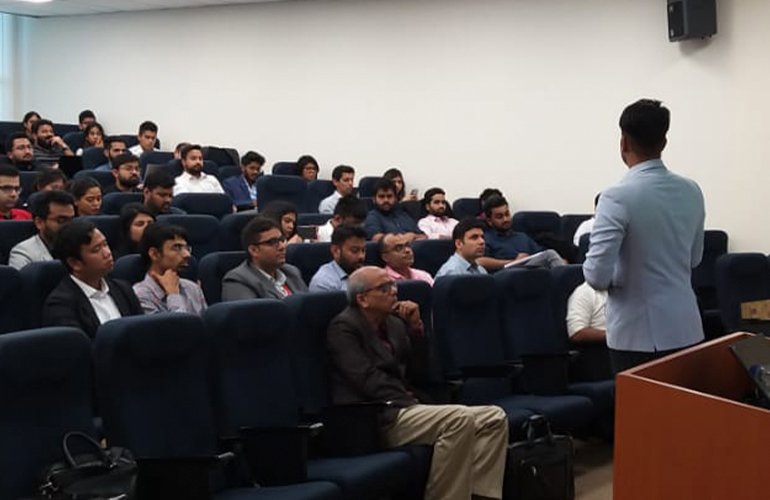 Our students got the opportunity to learn about New Market Entry and business expansion strategies
He highlighted how getting started and having a solid game plan is important to become an entrepreneur. Research with a pinch of salt is the key to everything and helps a business gain leverage. Important factors to analyse are:
Gross Domestic Product
Population
Customers
Target products
Category sizes
Challenges one can have in entrance
Consumption
Per Capita Income
They discussed topics like HS Codes, how documentation is a key, innovation, persistence, intellectual property, the route to market, creating opportunities, how rejection is a part of the game and how to keep yourself composed in this dynamic corporate world.
Mr Daniel shared, "One needs to have a perfect appetite for business to succeed. They have different margins for different distributors, and they believe creating opportunities is all about hustling and, here, hustling means using all reliable ways to make connections and grow."
*This article has been written by Falguni Thakur, our MGB student from the Class of January 2019 specialising in Global Logistics and Supply Chain Management. She is also a member of the Global Learning Committee.