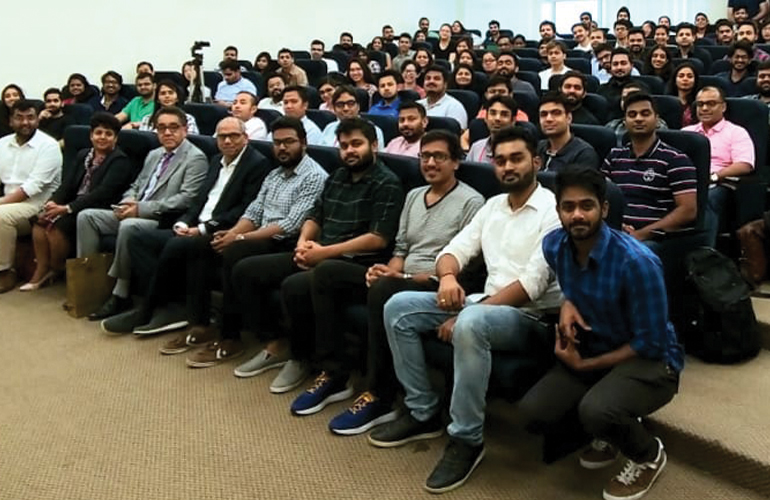 Our postgraduate students got the opportunity to learn about the rapidly changing landscape of business technology
Our postgraduate students got the opportunity to learn about the rapidly changing landscape of business technology
SP Jain School of Global Management organised a guest session by Arun Khehar (Senior Vice President – Middle East, Africa and India, Oracle) for the postgraduate students of the Class of January 2019. Mr Khehar shared his insights on the rapidly changing landscape of business technology within the context of the UAE, the Middle East and the world.
Oracle, incepted in 1977, is best known for its Database Management Systems and software like Solaris and Java and is providing solutions for factors like Online Transaction Processing and Data Warehousing.
The session was held on October 7, 2019, at the Dubai campus and was attended by the Master of Global Business (MGB) and Global MBA (GMBA) students from across specialisations as part of their global learning activity. The session began with a discussion on Emerging Technologies and Business Impact wherein Mr Khehar took the students through the journey of Careem which explained the increasing importance of Information Technology to run any business. He spoke about the biggest challenges faced by the Retail Industry today including how to sell more with lower costs for profitability.
Students were introduced to the three most prominent skills required to survive in dynamic businesses:
Artificial Intelligence
Blockchain
Internet of Things
Having an in-depth understanding of Artificial Intelligence and Blockchain would help one take up government roles and understand the Real Transformation Power of the businesses today. Examples like DP World were discussed to showcase how it is attempting to make Dubai a hub through the Uber Model. Segments like Immigration, Airports, Duty Free Purchases, Transport, Banking, Real Estates and Customs were talked about which highlighted facts like:
EMAAR is the largest real estate company in the world outside China
Uber Automation is getting better in Dubai and RTAs are now available on Uber
Duty Free makes 5 to 6 billion revenue with 2 outlets
As for upcoming business leaders about to enter the industry, Mr Khehar shared, "Students of tomorrow need to have enough grit, hunger and guts to apply for right jobs and contribute to making your country's economy better day by day and this is what I look for in every candidate."
Pushing boundaries with technology and innovation, transforming businesses – from a startup to a 2-billion-dollar powerhouse, supporting skill development, education, research and accelerating change, Oracle has been progressing through constant investments. They have helped Dubai cope up with the economic crisis since 2009 through improved supply chain and will continue to be a progressive contributor in the future as well.
*This article has been written by Falguni Thakur, our MGB student from the Class of January 2019 specialising in Global Logistics and Supply Chain Management. She is also a member of the Global Learning Committee.