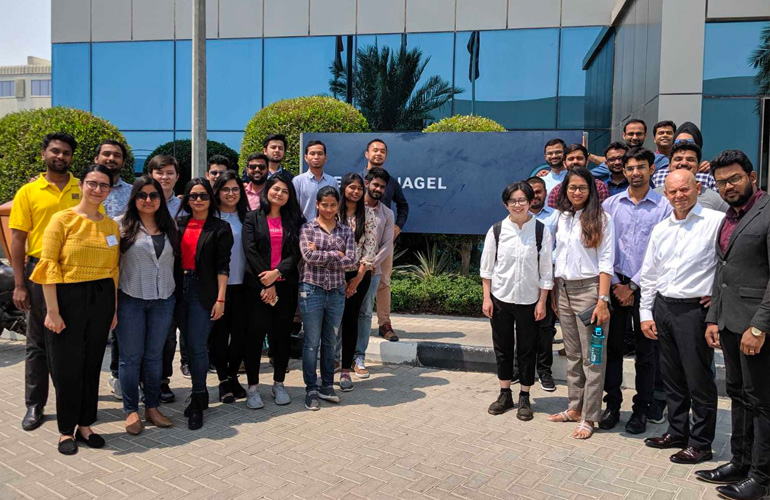 Our Master of Global Business (MGB) and Global MBA (GMBA) students from the Global Logistics and Supply Chain Management specialisation participated in the global learning activity to gain exposure to real-world insights
Our Master of Global Business (MGB) and Global MBA (GMBA) students from the Global Logistics and Supply Chain Management specialisation participated in the global learning activity to gain exposure to real-world insights
SP Jain School of Global Management organised an industry visit for the postgraduate Class of January 2019 to the Dubai Logistics City on September 23, 2019, to help students understand the operations and supply chain at Kuehne + Nagel, a global transport and logistics company.
Kuehne + Nagel is based in Schindellegi, Switzerland and was founded in 1890 in Bremen, Germany. It provides air and sea freight forwarding, contract logistics and overland businesses with a focus on imparting Information Technology-based logistics solutions. It is an agile company, that does not own assets but people, which makes it stand amongst the Top 15 Global Freight Forwarders List. It is a performance-driven organisation that runs Key Performance Indicators for all its customers with a focus on continuous progress.
The Master of Global Business (MGB) and Global MBA (GMBA) students from the Global Logistics and Supply Chain Management specialisation participated in the global learning activity to gain exposure to real-world insights.
The students were introduced to Mr Henrik Christensen (HR Head) who shed light on important topics like how consumers today expect everything to be available anytime and anywhere and how one can cater to these demands. He spoke about how technology has been strongly imperative and how being at the forefront is extremely vital. They discussed some important factors to focus on including:
Response Time
Customised Products
Need to reduce complexity (Mitigating Risks)
Measurability
Mr Christensen also highlighted the benefits of Artificial Intelligence (AI) for evaluating their operational models of supply chain.
Post the informative discussion, the students visited the company's Warehouse and Distribution Centre where they learnt about:
The Elimination of 7 Wastes, Benefit of Value Stream Mapping and how they were using it to reduce wastes
Contract Logistics, Inbound and Outbound Operations and how big a role does 3PL (Transportation, Warehouse and Forwarders-based) play
Their summarised function is to: Buy Raw Goods – Add Value – Deliver.
Mr Christensen concluded the session with his winning statement – "If you cannot beat them, you can buy them" – an inspiring and powerful thought on career growth for the students.
*This article has been written by Falguni Thakur, our MGB student from the Class of January 2019 specialising in Global Logistics and Supply Chain Management. She is also a member of the Global Learning Committee. She has a keen interest in Industry 4.0 and Freight Forwarding. She strongly believes that resilience and smart work is the catalyst to success.