The term 'business' can be found everywhere in the sport. It's on the jersey, in the stadium, in the heads of the players, managers, and especially the owners. Each week, millions of dollars are transacted across clubs, fans and ticket offices, and sponsors. If there is a potential for money making, someone will have taken it.

Soccer – it's all about business

Organised by the Global Learning Team, the S P Jain Football Competition is the continuation of the 1st edition of this tournament with the inclusion of an auction process in order to make it a sound business simulation. The auction mimics the bidding of players to play in the various teams.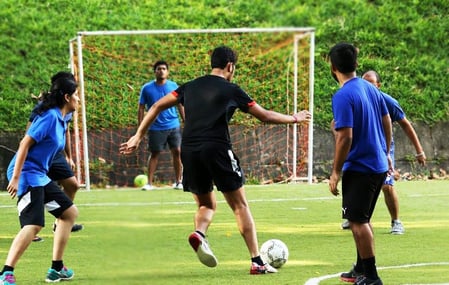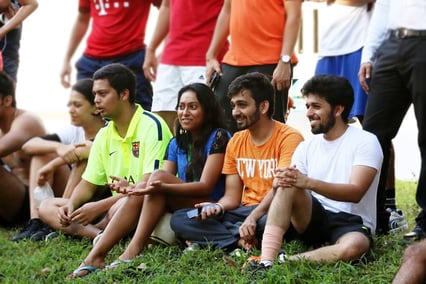 Team managers/owners compete amongst themselves to form a team of their choice. All the students who wanted to be the team managers/owners are invited for a bidding process. Each prospective owner is given a fictitious amount of SGD 60 Million and is required to bid for players.

Thereafter, the teams take to the futsal field and compete against one another. Simulation of an auction process is aimed at bringing out the below mentioned skills:

1. Decision making
2. Leadership
3. Strategizing
4. Change management
5. Budget allocation/ forecasting
6. Negotiation skills
7. Team Building
8. Resource management
9. Professional approach to a business event

The competition ran for four weekends and the finals were held on the 19th of June, Sunday.
Bridging football to business
When asked about the most arduous task in the tournament and how they overcome them when it comes to strategizing the moves for the team, the students were able to identify some of the key concepts like strategy and teamwork. These traits are also crucial in today's business world. In summary, this competition not only instils leadership qualities, teamwork and great strategy implementation, it also promotes an active lifestyle through sports.
"We have to make sure that everyone in the team gets a chance to play, even when we are not in a good position in the tournament. We need to understand the kind of players in the team and come up with team strategy on field based on their strengths".

"The battle is never over till the end; you are only as good as your team. Strategy is pointless if the team is not together."