SP Jain Singapore students had the opportunity to attend an enlightening guest session by Dr. Kamish Mirza, Head of Supply Chain Management, Asia Pacific region for Ericsson Telecommunications Pte Ltd. on the 15th of February. The focus of the discussion mainly revolved around how innovation is affecting the supply chain. Talking about the basics of the supply chain, Dr. Mirza also explained Ericsson and its complexity in detail. Moreover, students got a brief understanding of the Internet of Things and supply chain opportunities and challenges.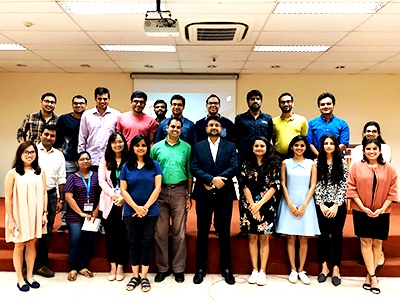 Topics that intrigued the students most were the concept of supply chain segmentation, the ecosystem of the ecosystem and the importance of deep engagement in the B2B market. Especially, supply chain segmentation was introduced to them from strategy perspective that plays a vital role to improve the value delivered to a customer. Therefore, importance to customize supply chains depends on the need of the customer.
Students learnt about the extent to which certain technologies could be used in supply chains. It is evident from the prevailing use of artificial intelligence for inventory checkup. In future, it will enable managers to pinpoint and check the exact placement of their inventory in warehouses virtually.
The insights of the guest session were contributed by Saumya Pandit, MGB May 2017 Batch.