On 7th June 2018, our Dubai campus hosted Hon. Dr. Eugene Mutimura - Minister of Education of the Republic of Rwanda. Respected guests Dalila Yasmin Amri Sued (Chargee d'affaires of the General Consulate of Republic of Rwanda in Dubai) and Michelle Ntukanyagwe (Director of Policy, Research and Planning, Higher Education Council, Republic of Rwanda) were also part of the SP Jain visit.
Dr. Mutimura was welcomed by Prof. Christopher Abraham (Sr. Vice President, CEO & Head of Dubai Campus) who described that the meeting was part of a series of strategic talks aimed at establishing a long term strategic partnership between SP Jain and the Government of Rwanda. A campus tour and presentation were part of the Minister's visit where he was introduced to the university's values and the various initiatives currently being implemented for students' growth and career development.
Director of Student Recruitment & Outreach, Sarah El Gohary, then interviewed Dr. Mutimura where he expressed that what the world really needs is for individuals to share their knowledge and skills with others, referring to it as the 'multiply effect.' In his words, "mentoring others to learn is very critical in my life and I think that's the only way you can help others, the only way you can help other communities and a country at large."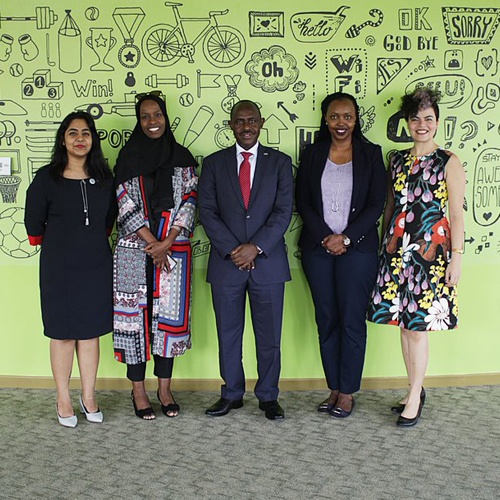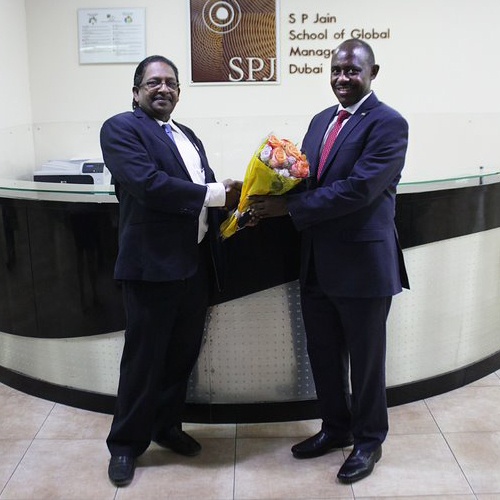 During the Transform Africa Summit in April this year, SP Jain representative Marko Selakovic (Senior Manager, Institutional Development) and the Government of Rwanda initiated communications and established a strong relationship. Marko added that "Rwanda's global progress towards innovation and digital transformation cannot go unnoticed." According to Prof. Christopher Abraham, "this strategic partnership would lead to the establishment of many positive initiatives including setting up the SP Jain Kigali Innovation Campus where many futuristic initiatives in the areas of innovation, fintech and higher education are being planned. The partnership would result in enviable benefits which will contribute to Rwanda being the digital leader on the African continent."
About Dr. Eugene Mutimura
Dr. Eugene Mutimura is a prominent Rwandan scientist and researcher who serves as Rwanda's Minister of Education. Prior to his appointment as Minister, he coordinated the African Centers of Excellence project, based in Kampala and financed by the World Bank in 8 nations, to help provide research and instruction in 16 Universities. Dr. Mutimura completed his PhD from the University of the Witwatersrand in Johannesburg in 2007 and previously worked at the Regional Alliance for Sustainable Development. It is among his top priorities to improve the quality of higher learning and train a new generation of Africans who can develop and apply science and technology to solve Africa's most pressing challenges.