SP Jain School of Global Management was honoured to invite Mr. Abhilash Misra, CEO of National Stock Exchange (NSE) of India Academy, to speak to our postgraduate students of the Master of Global Business (MGB) program (Sep'18 intake) on 8th October 2018 at its Dubai campus as part of the Global Learning Industry Voices Program.
Mr. Abhilash Misra is an award-winning Banking and Financial Services business development leader with 20+ years of extensive sales and marketing exposure. An expert at running Joint Venture alliances, he has set up three business units, managed two M&A integrations and implemented multiple turnaround annual operating plans and lean business strategies.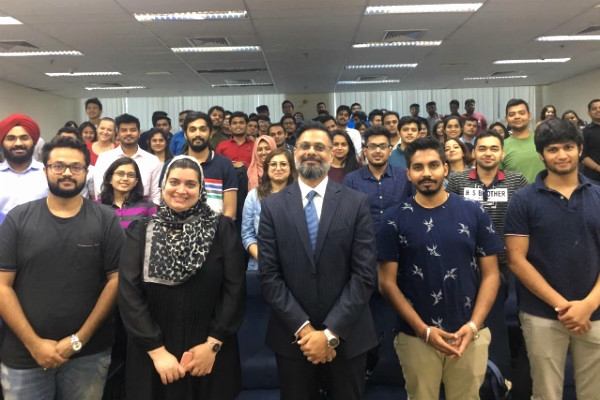 Mr. Abhilash Misra, CEO of National Stock Exchange of India Academy (centre), hosted an engaging
session on Future of Work with MGB students at SP Jain School of Global Management's Dubai campus
"Mr. Misra's session kicked off with some thought-provoking ideas. He showed us pictures of some famous personalities like George Bush, Raghuram Rajan, Indra Nooyi, Harsha Bhogle and Tiger Woods. What I found interesting is that he pointed out one common thing in all of them – that is they all went to one or the other management schools. I feel this gave us the inspiration to be like one of the top notches that makes a difference to our society and the business world. At the same time, he reminded us that the near future years are more volatile and versatile. Workplaces are changing, methods of doing jobs are changing and Fintech and advanced technologies are emerging," recounted Angad Shah, our postgraduate student specialising in Global Finance.
Mr. Misra also shared effective strategies and came up with a 12-month plan for students to get ready for the corporate world. He highlighted the importance of networking, having a mentor and definite key aims in life and much more. He said that having certifications (beyond Academic degrees) plays an important role in the industry to get recruited. A study of job market analysis, skills that employers seek, unique projects, etc. also play an equally vital role in landing a job in your dream company and at a position you want.
He also recommended books like 'Sapiens' and 'Homo Deus' for understanding the history and near future of humankind. He advised students to read books like 'The 4-Hour Work Week' and 'What Color is Your Parachute' for career guidance. He also shared his experiences and participated in an engaging Q&A session with students which gave them a lot of food for thought on how to progress in their career after graduating.
"The future is constantly evolving and so is the Future of Work. An immense learning for me as I met and listened to the aspirations and ambitions of the bright students of SP Jain School of Global Management in Dubai. A room full of hopes, dreams and opportunities to shape the world of tomorrow. Thank you Prof. Christopher Abraham (CEO and Head of Campus - Dubai), Dr. Nawazish Mirza (Associate Professor of Finance) and Ms. Megna Kalvani (Sr. Manager, Global Learning & Student Life) and all the students of SP Jain Global for this wonderful opportunity," said Mr. Abhilash Misra.