On 24th May 2018, our Global MBA and Master of Global Business students attended a guest session by Mr. Sathyan Vaidyanathan (Global Market Activation Leader – EMEA, Phillips UAE) at our Dubai Campus.
During the session, Mr. Sathyan shared key insights about the MET market dynamics - the unseen insights, economy drivers and growth dynamics, an overview of the Healthcare industry – B2B, B2C and B2G business contexts, S & M fundamentals in corporates – Segmentation, pain chain and digital marketing, Market made innovation – Heart Safe City supported with other real-life examples.
Beginning the session with the three stages of selling and the overall process of selling, the importance of customer experience and the role of a manager, Mr. Sathyan shared his personal story with the students about his workings in the Phillips healthcare division, his knowledge on the markets of Middle east and Turkey and the growth of the Middle East's overall industry.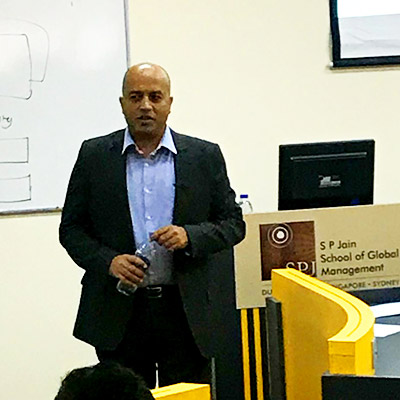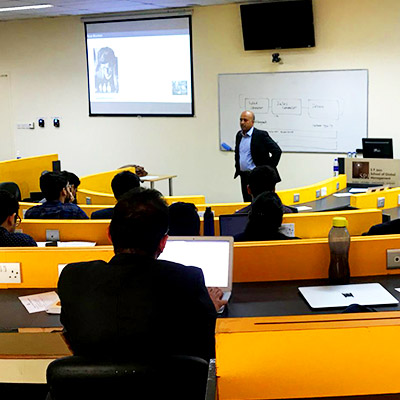 He also emphasised about the importance of pricing decisions and how your pricing strategy is very important for the success of your product. "If a customer wants your product, you won't lose him because of the price," said Mr. Sathyan during the session.
He ended the session on a positive note by asking the students to never compromise on their ethics and principles for long term success.
"It was a very insightful and interactive session and Mr. Vaidyanathan gave us a good snapshot of the B2B space in Philips. I was able to derive two key lessons that I would like to implement in my corporate career: 1) One cannot copy customer experience, make it as a POD for business; 2) if trust and performance are differentiators, protect them by all means." - Meghnad Pathak, Student, MGB Sept 17 Intake