In a very engaging and interactive guest lecture at the Leadership Hall of SP Jain Singapore, the CEO of DHL e-commerce, Charles Brewer held a session with students on "How E-Commerce Logistics is changing cities" on the 22nd of February 2018. He discussed how cities of the future will work differently, and at the heart of their success will be the efficiency urban e-commerce. Initiating the session by talking about the current status of the e-commerce industry in different marketplaces, he gave the students a broader understanding of the power of the e-Commerce industry and its associated future potential growth.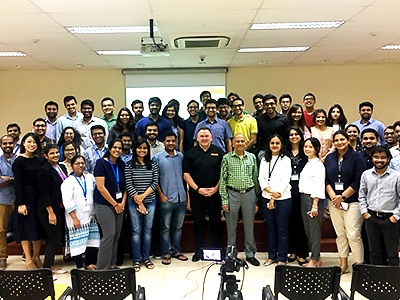 With the Internet and rise of e-commerce, consumer expectations from technology have transformed into an on-demand economy, creating more demand and urgency. Charles shared his views on the importance of digital infrastructure, which includes the physical infrastructure. He offered the students comprehensive learning experience and an opportunity to understand what it means for a delivery company to be a part of this fast-paced changing landscape. He shed light on the concept of "customer expectations" in line with "last mile delivery" in developed and developing nations. Charles also emphasized the importance of cross-border e-Commerce enabling the access of new markets with minimum investments.
It was an informative session for SPJ students that bridged the gap between their theoretical learnings and the industry experience.