On 24 May 2018, SP Jain's Singapore campus hosted Mr. Ernesto H. Braam, the Regional Strategic Advisor, Southeast Asia from the Dutch Embassy in Singapore. As part of the Visiting Wisdom series, Mr. Braam shared his insights on the geopolitics and economic situation in Southeast Asia (S.E.A).
During his session, Mr. Braam identified US, China and Japan as the Key Players in S.E.A and shared the geostrategic factors, strategies and points of contention between the three major players. He also touched upon the age of assertive leaders, the categorisation and situation of the upper, middle and small powers in S.E.A.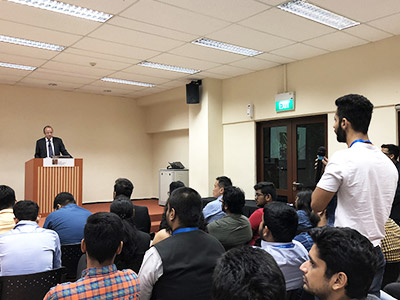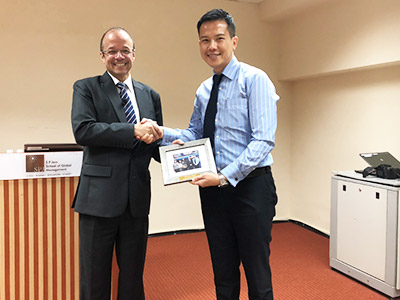 The talk was followed by an interactive Q & A session and received positive feedback from the students.
"The Visiting Wisdom session by Mr. Ernesto Braam was enlightening to say the least. His analysis and perspectives on the on-going power struggle in SE Asia helped deepen our understanding of the changing geopolitical and geo-economic situations in the region. Despite being a complex topic, his talk, interspersed with wit and humour, had us all in rapt attention.
"During the interaction with him after the session, he made us feel at ease, patiently answering all our questions. It was an inspiration to experience first-hand his humility, despite being such a senior and well-respected expert," - Taruun Vaiddya (Student, Global MBA Batch of May 2018)