On 26th March 2018, BBA students at SP Jain's Mumbai campus got an opportunity to have an interactive session with Emily Menon (Founder and Executive Director - Innovaid Advisory Services) and Nidhi Pathak (Communications Manager - Ambuja Cement Foundation). The session was organised by Prof Shrinivas for the students to learn and understand all about corporate reputation & purpose, corporate social responsibility, and stakeholder engagement.
During the session, students looked at the importance of maintaining a good reputation, different stakeholders that a firm has, and why firms should care for their reputation. To round up the corporate reputation topic, the class did an exercise of Identifying companies who have a bad reputation with investors, customers, suppliers, employees, regulators, politicians, nongovernmental organizations and communities. The second topic was corporate social responsibility, and after defining CSR (minimising negative impacts and maximising positive impacts), students measured the impact that CSR has on the planet, the people and on profit. Key components of CSR were studied (Community, Environment and Marketplace).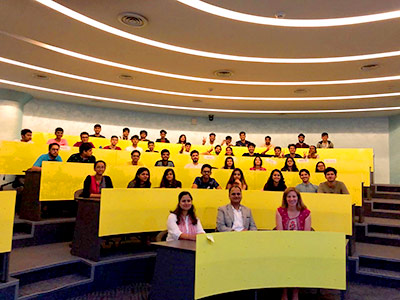 To conclude the topic, a video of how Ambuja Cement was taking CSR into consideration and impacting surrounding communities was shown in the class, followed by a discussion of stakeholder engagement.
"I did not know that a firm's reputation mattered as much as I learned today, it can make or break the whole firm. Also, I enjoyed learning how big an impact firms can have on people and on our planet" -Anjana Nair, Student, BBA