Camel, popularly known as the 'Ship of the desert', has been a huge part of the Bedouin culture and a staple in the traditional diet. Over the years, there's been a rise of Camel Farms & Research Centers in the UAE – with an aim to introduce camel milk to markets and make it accessible to a large number of consumers.
To better understand this industry, the Postgraduate students specialising in Contemporary Marketing and Logistics & Supply Chain visited Camelicious - a leading camel milk dairy brand based in UAE produced by Emirates Industry for Camel Milk & Products (EICMP) on 31st May.
Students visited the Camel farm, witnessed the logistic operations and gained a deeper insight into the brand positioning in the local and international FMCG market regarding camel milk products such as plain & flavored options as well as camel milk powder, camel whey powder and three varieties of camel milk cheeses.
Established in 2006, the milk production facility was completed and the first camel milk products under the brand name Camelicious hit the UAE shelves in August of the same year. With technology up to latest standards and over 4,000 camels, EICMP runs the most advanced and first fully integrated camel milk production facility in the world. Camelicious dairy products are presently sold in UAE and exported to Kuwait, Jordan, United Kingdom, Austria and Malaysia.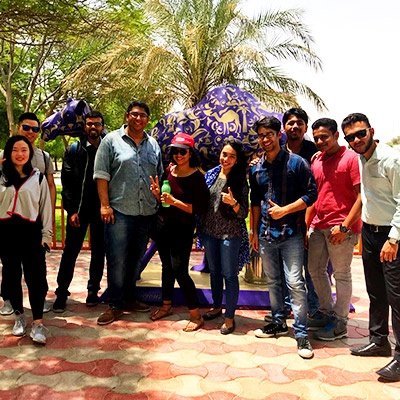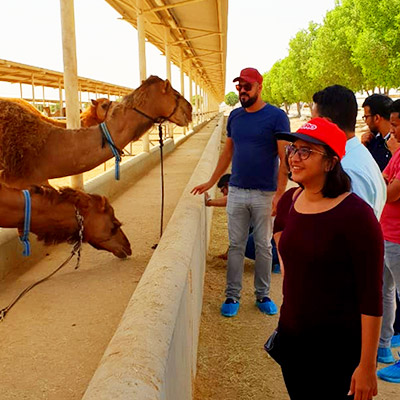 The Global Camel Milk Market is currently enjoying staggering growth rate owing to the rising global population, increased yields, and improved logistics and supply chain across the globe. Though environment concerns still loom strong over the feasibility of the Camel Milk Market, the Global Camel Milk Market is expected to continue it strong upward move with a high CAGR year-on-year.
"For generations, we have been associating milk with animals such as cow or goat but who could have thought of associating the same with camel? During the visit, I learnt that camel milk seems far superior to the conventional ones not just in terms of price but also due to the medical benefits. Countries such as United Kingdom, Jordan and United States are currently the main importers of camel milk." - Atul Tikmani (Student, MGB Intake of Sept 17)
*This Event Update was written with inputs provided by Atul Tikmani (Student, MGB Intake of Sept 17).
*Photos by Alok Kumar (Student, MGB Intake of Sept 17).