On 26th September 2017, SP Jain's Mumbai Campus organised a cultural evening for the BBA Cohort, celebrating Navratri. Navaratri is a Hindu festival celebrated for nine nights and ten days in the autumn of very year. The festival is celebrated in the bright half of the Hindu calendar month Ashvin, which typically falls in the Gregorian months of September and October.
The Navratri celebration at SP Jain's Mumbai Campus was a vibrant and exciting event that brought together the entire BBA Cohort. The students were greeted with tilak, a Hindu tradition signifying spirituality, and were then given Dandiyas for the dance, Garba. Garba is a dance form that is traditionally performed during the 9-day festival of Navratri. The cohort indulged in the dance with enthusiasm, further leading to freestyle dancing. The students got ample time to engage with each other, creating a memorable time.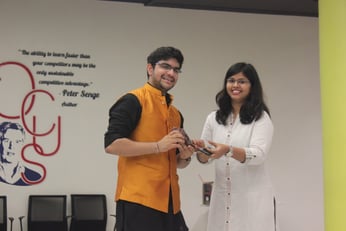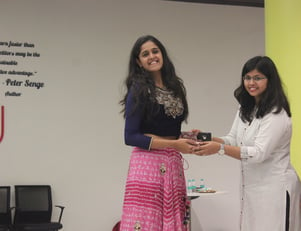 A variety of traditional Gujarati food was served for dinner, that included Khandvi and Undiyo. The event came to a fashionable close with the students walking the ramp in their traditional clothing, created an enthusiastic atmosphere. BBA Jaguars, Manu Sharma and Eashita M Sharma, were chosen as the Best Dressed.
"Capturing the moments on camera gave us an opportunity to see a different side to each person during the Navratri celebrations" - Rishabh Mishra, Student, BBA Intake of 2017.