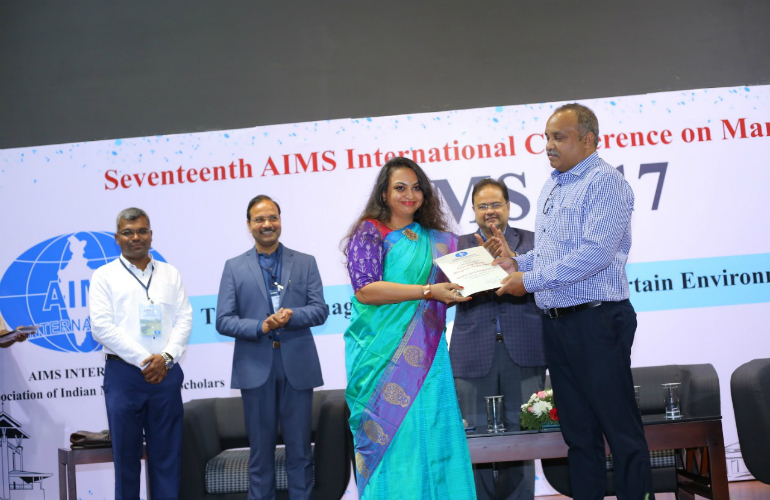 Dr Smitha S Ranganathan (Assistant Professor, SP Jain) receives the award
Dr Smitha S Ranganathan (Assistant Professor, SP Jain) receives the award
Dr Smitha S Ranganathan (Assistant Professor, SP Jain School of Global Management) was the recipient of the Association of Indian Management Scholars (AIMS) International Outstanding Young Management Teacher Award (2019). The award ceremony was held on January 2, 2020, and was hosted by Indian Institute of Management Kozhikode, India along with the annual conference of AIMS.
AIMS International was established in 2002 with the mission to unify Indian management scholars to foster excellence in education and research. AIMS institutes organise the awards annually to acknowledge the spirit of commitment and academic excellence.
The coveted award received over 600 nominations from premier institutions across India. The process for selecting the winner was an extensive one that included multiple rounds which evaluated aspects relating to teaching philosophy, initiatives in developing and delivering industry-centric courses, teaching pedagogy, innovations used in teaching, emphasis on technology for altering teaching outcomes, and student and peer evaluations of teaching. The panel also evaluated each nominee's level of passion in delivery and the nature of involvement they bring amongst the audience in the classroom.
Speaking about her achievement, Dr Smitha S Ranganathan shares, "Having been part of the advertising community did give me enough opportunities to win awards for brand campaigns. However, this award has been a very special one for it celebrates my 10-year milestone in teaching. I am deeply grateful to SP Jain School of Global Management for the stellar platform I have been given that lets me leverage the power of technology to deliver research-driven, industry-centric content with palpable outcomes. The multi-cultural orientation and cross-industry focus of our courses have left a strong impact on my teaching philosophy."
Dr Smitha S Ranganathan has over 18 years of experience as a key account influencer and brand communication specialist with a keen interest in focused marketing communications. She has donned various hats in agency environments ranging from account management, brand strategising to business development. She has also been an enthusiastic contributor to some of the popular media publications and has over 46 publications as a columnist in Indian business dailies such as The Economic Times, Hindustan Times and The Brand Equity, and reputed international journals. Besides brand strategy and writing, Dr Ranganathan has a vast expanse of experience encompassing project management, process definition and consulting across domains.
She teaches Contemporary Marketing Management, Digital Marketing, Digital Decision Making, Integrated Marketing Communications and Strategic Brand Management across SP Jain's Executive MBA, Global MBA and Master of Global Business programs.
In the past, Dr Ranganathan has won many notable awards including the Champion of Change Award (2019), Bhoomika Iconic Woman of the Year Award (2017), Best Paper Award – Social Media & Digital Marketing (2016) and Best Case Writer Award (2013).
You can learn more about Dr Ranganathan's academic and corporate experience, research and publications, and achievements here.