This year, we saw around 180 freshmen students from nearly 30 different countries such as China, Egypt, South Korea, India, Mauritius, Mongolia, Portugal, Russia and Spain to name a few. They are here in Singapore to join our Bachelor of Business Administration (BBA) course – the course that brings them to three different megacities – Singapore, Dubai and Sydney respectively.
We believe that to become truly global, not only do we need to have classrooms in different parts of the world; student diversity plays a huge part too. This way, our students do not just interact with people of different background; they get to experience new places with them.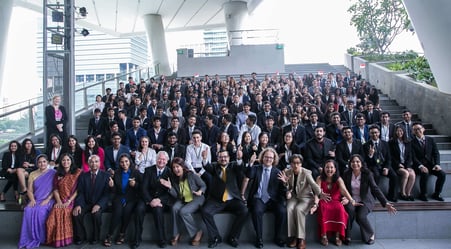 Breaking the Ice
The orientation took place in the morning at Star Vista, an urban retail sanctuary set within a uniquely integrated and natural environment. The session started with a group photograph made up of the freshmen, their parents and the S P Jain undergraduate Team.
The first presentation was by Mr Nitish Jain, our school president, followed by Dr Golo Weber, Assistant Dean of BBA, Meera Kaur, Manager for Global learning and Hagit Ben-Ari, counsellor and life coach.
Shortly after back in the Singapore campus, the students collected their Jaguars polo tee so to be prepared for the next event – Treasure Hunt! The students ran around campus and beyond, to clear obstacles given by the game master and gather information required to clear the stages.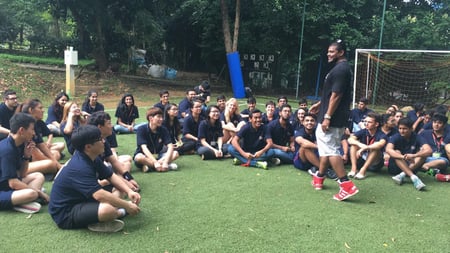 We are Parents too
The child will always be the baby of the parent no matter how young or old he or she is. It is definitely a difficult goodbye especially for those who had to leave their children and head back to their own country.
To ensure the parents that their children are in good hands, S P Jain organised parent-only sessions to answer their queries. The night ended with a campus tour and a cocktail session with parents, faculty, staff mingling, exchanging thoughts, and insights.
We know that it is going to be a tough four years for both parents and students – but we are going to make sure that it is worth it.
All the best Jaguars!