On 18th April, SP Jain Singapore received S$125,000 from award-winning FinTech company, Flywire. Flywire was the recipient of the Monetary Authority of Singapore's Best FinTech company in 2017 and won a cash prize of S$250,000, out of which it pledged S$125,000 to SP Jain Singapore.
The official launch of the collaboration between SP Jain Singapore and Flywire was witnessed by The Australian High Commissioner, Mr Bruce Gosper. Both Flywire and SP Jain Singapore will collaborate and allocate the funds for Scholarships and a Start-up Competition focusing on EduTech, TravelTech and HealthTech that will use Flywire's payment solution.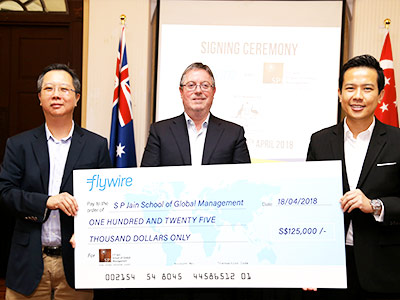 Commenting on the collaboration, CEO & Head of Campus for Singapore, Dr John Fong said, "We believe that the collaboration with Flywire will bring cutting-edge start-up ideas onto the campus and create an ecosystem that will benefit students and prepare them for jobs of the future."
The ceremony was attended by Flywire staff (known as Flymates), representatives from the Singapore Economic Board and friends of SP Jain together with our Faculty, Staff and Student Ambassadors.
More details about the Startup competition and how to access the funds will be made known in the coming months.