SP Jain School of Global Management hosted more than 30 strategic corporate partners at the SP Jain Strategic Partners Networking Event on 31st January 2019. Held at the Banquet Hall in the Singapore campus, the event aimed to celebrate the shared successes between SP Jain and its partners, along with welcoming the new ones to come. It was a great occasion for SP Jain and its guests to network, brainstorm on ideas and drive new opportunities in the year ahead.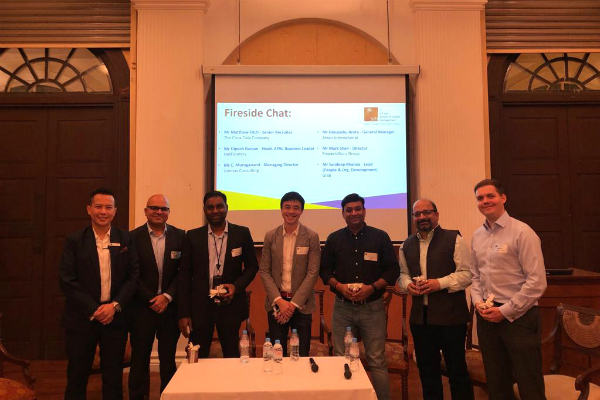 (Left to Right) The evening started off on a great note as Dr. John Fong, CEO & Head of Campus (Singapore)
- SP Jain, welcomed guests and key speakers from Zespri International, Unimas Consulting, PropertyGuru Group,
NetFoundry, Grab and The Coca-Cola Company
Hosted by Ms. Marrilyne D'Cruz, Institutional Development Executive at SP Jain, the evening started with a Welcome Address by Dr. John Fong, CEO & Head of Campus (Singapore) at SP Jain, thanking corporate partners for supporting the brand. This was followed by a fireside chat with key speakers – C Muruganand (Managing Director, Uminas Consulting); Dipesh Ranjan (Head, APAC Business Leader, NetFoundry); Himanshu Arora (General Manager, Zespri International); Matthew Fitch (Senior Recruiter, The Coca-Cola Company); and Mark Shen (Director of Business Planning & Operations, PropertyGuru Group).
The conversations continued as guests networked and exchanged brilliant ideas and industry insights with each other. With that said, a huge thank you to all our partners who attended, including leaders from:
Argus Global
BlocBox
BP Singapore
Deutsche Bank
Entrepreneur LIve
Flywire
Grab
Infosys Consulting
Johnson & Johnson
Johnsonville
MediaCorp
Nestia
NetFoundry
NTUC
Nuvista Technologies
Ovum
Property Guru
Sage Strategies
SAP
SAPE
Schneider Electric
SGX
Sharp Singapore
Spade Consulting
Tech Mahindra
The Coca-Cola Company
Travelstop
Unimas Consulting
UPS
Zespri International
To see more photos from the event, please click here.