On 18 September 2017, SP Jain's Sydney Campus hosted a talk by Rachel Bourke on the techniques that outline what it takes to overcome your fears and lack of finesse in networking opportunities. Rachel Bourke is an inspirational facilitator, speaker and peak performance coach, teaching others the most effective techniques for optimal performance, influence and sales success.
With a proven track record in business, Rachel has worked with a diverse client base, from large corporates to small businesses, with spectacular results including 100% growth year after year for some of her entrepreneurial clients.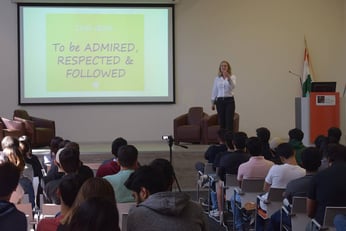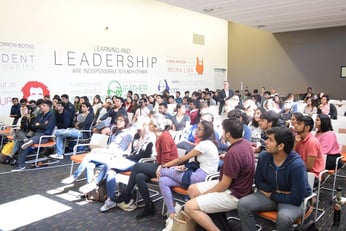 A snapshot of Rachel's clients over the years include senior executives of International Banks such as The Royal Bank of Scotland, partners from global law firms, leading Business Advisors and Chartered Accountants, world class Trainers and Educators, award-winning business owners and organisations that have received accolades for being amongst the fastest growing companies within Australia and the UK.
Rachel spoke to the SP Jain students about key steps in presenting themselves confidently one-on-one, and helped them learn how easy it is to turn a conversation into an opportunity no matter what the context.
"Rachel shared important tips that help us learn how to begin and end conversations in a networking environment. I believe the workshop has changed our mindset allowing us to enjoy meeting new people and to make a highly compelling first impression." – Shubham Kedia, BBA Student