On 19 April 2018, GMBA & MGB students from the Jan 2018 cohort specialising in Global Logistics & Supply Chain visited the office and factory of Unilever Personal Care based in Dubai Industrial Park.
Personal care is Unilever's largest product segment, generating approximately €20.17bn, or 38% of total turnover in 2016. The company, which is listed on the New York Stock Exchange, manufactures personal care brands including Vaseline, Sunsilk, and Tresemme, as well as food and beverage brands such as Lipton, Bovril and Ben & Jerry's.
The factory based at Dubai Industrial Park is the the largest personal care facility for Unilever in the region and is reported to export about 80 percent of the items produced at the facility to 80 countries in the Middle East, North Africa and Europe.
During the visit, students got a chance to understand the scale of operations and its business implications. The factory produces 500 million items, or 100,000 tonnes of liquid product a year. This can range from a 25g sachet of face cream to a 700mL container of shampoo. The factory imports raw materials from its global and local vendors and manufacture packaged hair and skincare products. Currently, these items are packaged at factories in Egypt, India, Europe and Saudi Arabia. Students also learnt about Unilever's second factory in Jebel Ali that packages tea. Built in 2002, it is its largest tea-packaging facility in the world.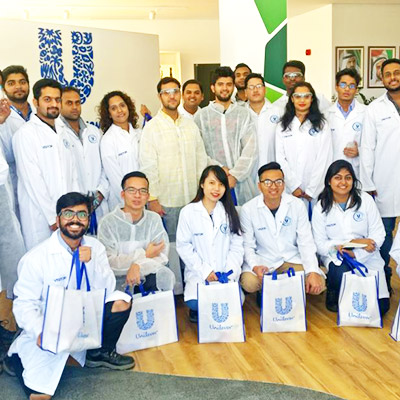 "It was a great learning experience. It was interesting to learn about Unilever 7 personal care brand and how the main product is beauty cream based on revenue gain. It's impressive to learn about the positioning of the factory in the UAE and how it was accomplished in a short span of time and at such a large scale." -Rashi Gupta, GMBA Logistics & Supply Chain student.
"After gaining basic information on the factory, we were taken for a visit to the main manufacturing plant. Our tour was led by the Production Manager, Mr Tarique. He has been a part of Unilever since the starting of the project. He was very friendly and ready to answer all our questions. He showed us the Micro-biological lab where the solution is tested for bacteria and also showed us the Chemical lab." - Srinivas Achanta, GMBA Logistics & Supply Chain student.
*This event update was written with inputs provided by Rashi Gupta (Student, Global MBA program)