On 5th April, the class of BBA 2016 ended the year in style with an outgoing farewell party themed "Hollywood Glamour" at Movenpick Hotel, Dubai.
The event was organized by the Student Council, and attended by our faculty and staff, who have been an integral part of the year to celebrate, share and reflect over the achievements accomplished by the cohort.
Tanushree Kumar (Vice President of the Student Council 2017-2018) was the MC of the evening, opening the floor to Dr. Kirti Khanzode (Deputy Director of the UG program). Dr. Kirti awarded student achievers who have been a constant backbone and have come forward in more ways than one to contribute and make an effective impact on the student community – namely, Anushka Khemka, Shashank Bakliwal, Rashi Behani and Rohan Bhatia.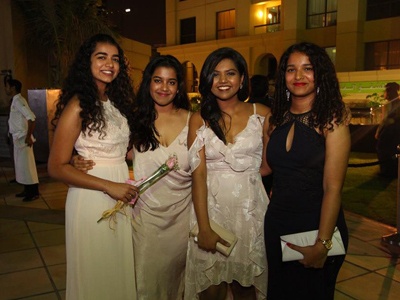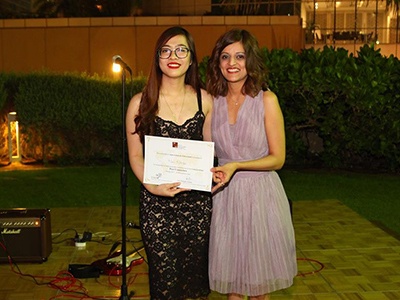 This was followed by faculty and staff Ms. Lakshmi Raman, Dr. Dhrupad Mathur, Prof Gulnara Karimova, Ms. Bijal Oza, and Ms. Megna Kalvani who shared their favorite memories of the cohort, commending key milestones and advise with the students. Dr. Marion Igarashi (Academic Dean - Undergraduate Programs) also graced the occasion and shared a few words about what lies ahead as the cohort heads to Sydney for their third and fourth year of their tri-city program.
Students were also recognised for their efforts being part of Student Committees, Clubs and Councils over the year. A special award, titled 'Outstanding Excellence Award', was awarded to Rohan Bhatia from the BBA 2016 batch for his active engagement, involvement, and positive attitude while taking part in student clubs, intra and inter-university competitions, and representing the school as a student ambassador.
The evening ended with fun quirky student awards, led by the school band who proudly call themselves 'The Promised Land' consisting of Yash Thakur, Johann Go and Wayne who performed songs for students to dance the evening away. They were joined by our talented student DJ, Kenrick Carvalho.
"It's been a great year in Dubai. We have had so many memories, milestones and learnings from UAE – we didn't expect it to be so much fun." -Anushka Khemka, President of the Student Council 2017-2018, SP Jain Dubai campus