4 July 2018 marked the start of a strategic partnership between SP Jain Singapore and National Trade Union Congress (NTUC) with the signing of a Memorandum of Understanding (MOU) that aims to help Singapore stay competitive.
The MOU included Scholarships, Workshops, Career Advice and Venue Sponsorship valued at almost $500,000. The MOU was signed by Dr. John Fong (CEO & Head of Campus - Singapore) and Mr. Vivek Kumar (Assistant Director - General of NTUC). Prof. Veena Jadhav (Assistant Dean of the EMBA program) and Julian Lew (Assistant Director of NTUC) were the witnesses.
On a related note, SP Jain is the knowledge partner and key sponsor for NTUC's upcoming "U Future Leaders Summit 2018" to be held on 4 October 2018.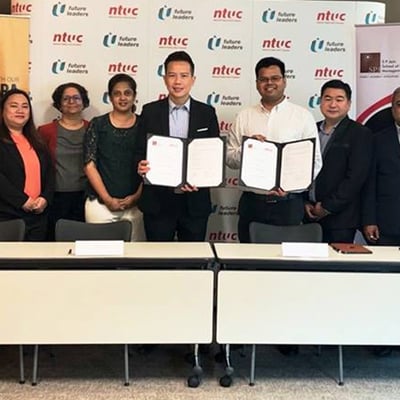 About National Trades Union Congress
The National Trades Union Congress (NTUC) is a national confederation of trade unions as well as a network of professional associations and partners across all sectors in Singapore.
NTUC's objectives are to help Singapore stay competitive and working people remain employable for life; to enhance the social status and well-being of its members and working people; and to build a strong, responsible and caring labour movement. NTUC's vision is to be an inclusive labour movement for all collars, ages and nationalities. NTUC is at the heart of the Labour Movement, which comprises 57 affiliated unions, two affiliated associations, 10 social enterprises, six related organisations as well as a growing ecosystem of U Associates and enterprise partners.