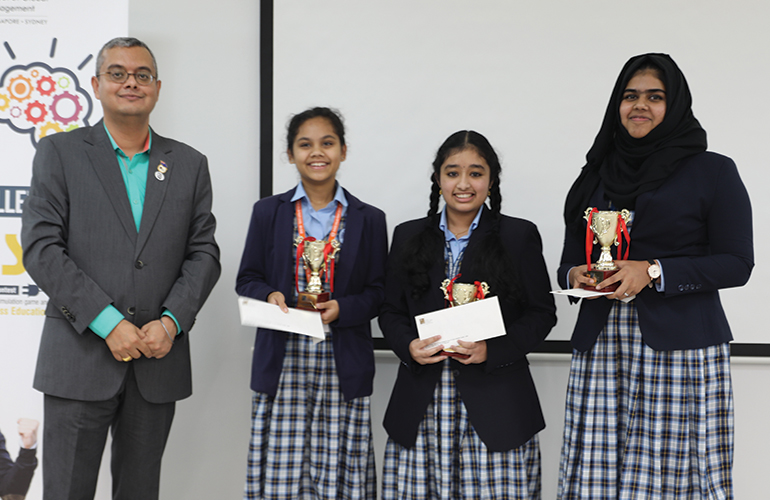 Dr Arindam Banerjee
, Associate Professor and Deputy Director - Global MBA & Master of Global Business, SP Jain, with the winning team of BrainSim 2019 – Sunrise English Private School Abu Dhabi
Dr Arindam Banerjee
, Associate Professor and Deputy Director - Global MBA & Master of Global Business, SP Jain, with the winning team of BrainSim 2019 – Sunrise English Private School Abu Dhabi
SP Jain School of Global Management organised the fifth edition of BrainSim, its annual Inter-School Business Simulation Competition, at the Dubai campus on October 23, 2019. 13 schools and 30 groups participated in this year's event.
BrainSim is a multi-player business simulation competition that challenges a student's real-time decision-making ability in a computer-simulated business environment. High school students, accompanied by school counsellors, from across the UAE participate in teams to compete and become the BrainSim Champions of the Year. The event gives the students an opportunity to experience the future of business education.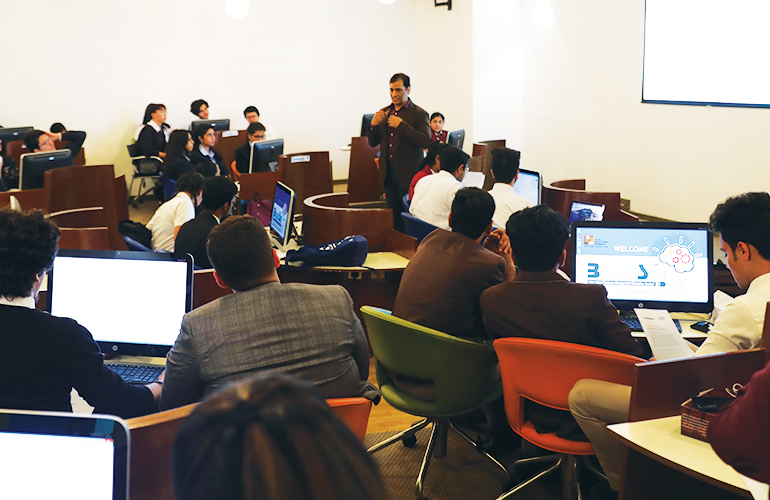 The novelty of BrainSim 2019 was the Business Simulation game which was introduced by Professor Nitin Patwa, Director of Simulations, SP Jain. This activity presents real-life situations where students must be the decision-makers. Team members must work together in coming up with creative solutions, tackling business problems and issues, and making decisions for the simulated company. Each group must analyse the situation and complete the simulation in the least number of "weeks" as possible.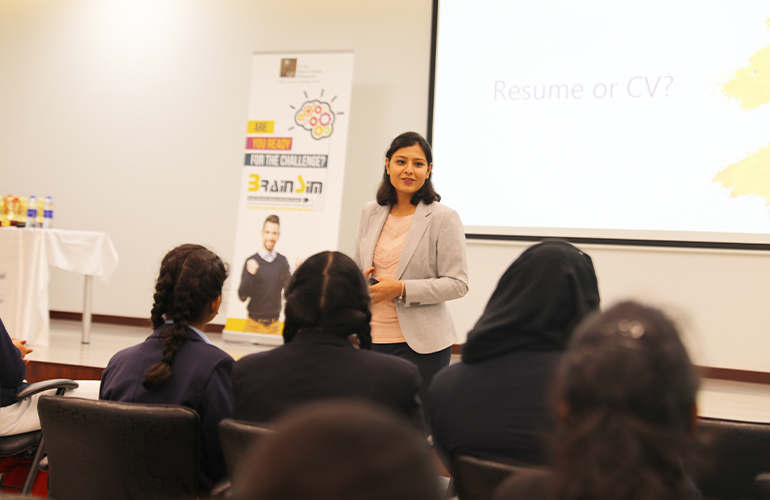 Sakshi Sachdeva, Manager of Professional Readiness Program, SP Jain, conducted a CV writing workshop
More exciting activities were planned for the day including a CV writing workshop by Sakshi Sachdeva, Manager of Professional Readiness Program, SP Jain. This session was essential for the students as they are about to jumpstart into a new environment where they will be recognised for their achievements and skills.
The participants were also introduced to life as an SP Jain student in an Undergraduate Informative Session hosted by Dr Arindam Banerjee, Associate Professor and Deputy Director - Global MBA & Master of Global Business, SP Jain.
While the students were involved in these interactive activities, the SP Jain team made sure the school counsellors were also kept engaged. Two workshops were conducted exclusively for them:
"AI-Robotics and Data – The Future of Higher Education" by Dr Silvia Vianello, Director Innovation, SP Jain
"Developing Emotional Resilience through Emotional Intelligence among Students" by Bijal Oza, Global Director for Counseling & Coaching Center, SP Jain
With only 63 "weeks" to close the simulation, Sunrise English Private School from Abu Dhabi were the Champions of BrainSim 2019. They were followed by GEMS Our Own Indian School with 71 "weeks" and GEMS Winchester School and Delhi Private School Sharjah with 73 and 77 "weeks" respectively.
The other schools that participated were Al Diyafah High School – Dubai, Cambridge International School – Dubai, GEMS Millennium School – Sharjah, GEMS Our Own English High School – Dubai, St Mary's Catholic High School – Dubai (UAE), The Millennium School, Springdales School Dubai, American International School – Abu Dhabi and GEMS Cambridge International School – Abu Dhabi.
Dr Arindam Banerjee expressed his sincere gratitude to all the schools and teams for participating in the event. He said that BrainSim 2019 was an enriching experience that inspired the students to become go-getters and future business leaders.
Here are some more pictures from the event: