SP Jain School of Global Management's Master of Global Business (MGB) students (Sep'18 intake) got an opportunity to interact with Mr. Amith Sequeira, Associate Vice President – Zomato, at a guest session conducted for them at the Dubai campus on 11th November 2018.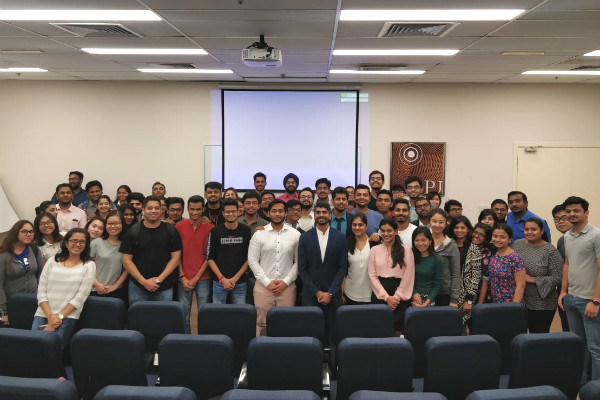 MGB students attend a guest session by Mr. Amith Sequeira,
Associate Vice President – Zomato, at SP Jain School of Global Management, Dubai campus
The event began with an intriguing question posed by Mr. Sequeira for the students – "What is the world made up of?". Students were bewildered to find the answer in a simple science concept – atoms. Everything in the universe is made of matter and, so, everything in the universe is made of atoms.
Mr. Sequeira emphasised on the importance of humble beginnings of Zomato – how it began merely as a restaurant-listing website and then expanded its horizon to now an internationally-listed and widely-used application for online food delivery services, table bookings, navigation and a guide through restaurants' menu and ambience. Zomato's success stands on the pillars of Assortment, Accessibility, Affordability and Quality. He guided the students through the business environment of the MENA/UAE region, the array of solutions for dealing with competitors and the user demographics of the Zomato app in the UAE. He spoke about the future of digital media and how Zomato plans to use Artificial Intelligence (AI).
Our postgraduate student, Gazal Jalan, shares some key takeaways from the session:
1. Trust is like an investment fund. You invest some, they will invest some. You will watch it grow, reap interest; just like a 'trust' fund.
2. Tip of the iceberg - Trust but validate everything. Sometimes, problems are much bigger and more complex than they appear. Titanic went down, so can you.
3. Unlearning is crucial to learning.
4. You are the average of the five people you associate with every day.
5. Entropy is not on your side. You just need to execute what is under your control and execute it really really well.
6. Treat your company's business as your own and you will most likely make better decisions.
7. It's important to be honest and dedicated to the work we do.
8. Marketing strategies – bottom line approach works well.
9. It's important to show courage and be there at the right time at the right place.
*This event update has been written with inputs provided by Gazal Jalan (MGB student - Sep'18 intake)