When we talk about creativity in branding and marketing, we tend to think about hip, young, and mostly fast-moving consumer products. Our minds do not really move towards the real estate industry. On the contrary, even if its market can be exciting and lucrative, real estate is often seen as something more conservative and boring.

As our Master of Global Students (MGB) students found out recently, nothing can be further from the truth.

On 14 July 2017, a group of students from SP Jain's Singapore Campus visited the Singapore office of PropertyGuru Group (PropertyGuru) at their Somerset Triple One office. Voted by consumers as "Asia's Most Influential Brand for Online Property Search" in 2016, PropertyGuru Group helps millions of people every month find their homes.

So, what is the secret to their massive success?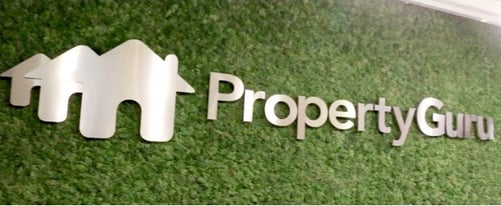 SP Jain students were greeted by a wall of lush green moss board with their logo in the center, and were then taken around the office, colorfully adorned in orange and cream. The office already seemed much more hip than what the phrase "real estate" may lead some to believe.

"Start to brand your business as early as possible," said Bjorn Sprengers, the Chief Marketing Officer at Property Guru as students settled down in their orange-walled meeting room.

Bjorn highlighted that PropertyGuru targets people who want to sell and rent their property. Being well equipped with knowledge about the market, country governments from Singapore, Thailand, Indonesia and Malaysia would often ask PropertyGuru for price trends, consumer and agent buying trends, and interests. He also emphasised that companies should monetise from day one to avoid running the risk of people taking the service for granted.

Bjorn also explained that the role of marketing in a business-like property lies in the consistency and speed of the various functions involved. One should synchronise the agendas in the business and have a strong vision by adding value to the content you can give to the customers.

Next came Esther Toh, the Regional Head of Marketing Communications. When it comes to marketing campaigns, Esther gave a couple of examples that show how PropertyGuru localised its marketing campaigns by sharing a couple of commercials made for Thailand.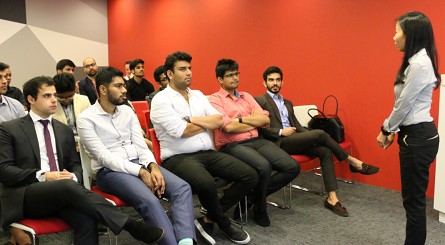 Esther also shared the importance of creating a detailed marketing brief that covers everything from the target objective to the target audience. Briefs need to differ from one another depending on who you are targeting, since, for example, a first-time buyer and an investor might think differently.

Arvin Setiawan, their Director of Online Marketing, had yet another angle on the issue. As someone whose job it is to drive property seekers to PropertyGuru platforms, Arvin is a strong proponent of simplifying processes and focusing on what is most important. This results in their lean and laser-focused digital campaigns, honing in on what works for Property Guru. Hence, while the usual search engine marketing is still relevant, it is enhanced through their programmatic advertising initiatives.

During his session, Arvin also shared some interesting initiatives using virtual reality (VR). In collaboration with the VR community in Singapore, PropertyGuru explored the realm of experiential marketing, in which they created a campaign involving a VR experience for a showroom.

All in all, PropertyGuru showed the importance of maintaining a brand's integrity and the need to understand the company's stakeholders in all their marketing campaigns. There is no one-size-fits-all, and this links back to the core objective of the company's goals.

That afternoon, heading back to their campus, the students of SP Jain came back with so much more—not just knowledge about real estate, but also an insight to marketing from some of the best industry experts in Singapore.

About PropertyGuru Group:
Headquartered in Singapore, PropertyGuru.com.sg was launched in 2007 by two entrepreneurs. They had a vision to simplify the property search process and help renters, buyers, sellers and investors make confident property decisions, faster.

Since then, it has grown from being a media company to a high-growth technology company, operating a suite of high quality property portals and award-winning mobile apps across Singapore, Malaysia, Thailand, Indonesia, and Vietnam. PropertyGuru also operates the renowned project marketing technology platform, ePropertyTrack, and is a host of industry-leading property offerings such as publications, events and awards across eight countries in Asia.

For more information, please visit www.propertyguru.com

Special thanks to
The PropertyGuru Team
• Sheena Chopra, Head, Corporate Communications at PropertyGuru Group
• Bjorn Sprengers, Chief Marketing Officer at PropertyGuru Group
• Esther Toh, Regional Head of Marketing Communications at PropertyGuru Group
• Arvin Setiawan, Director of Online Marketing at PropertyGuru Group;
• Laksh Gangwani, soengjoy.com for coordinating