This November 16, Thursday, the Global learning Team organised a surprise activity for the BBA students. Fellow staff members and members of the faculty joined the activity too.
In full secrecy, the crowd were taken to the northernmost tip of the North Region of Singapore, Sembawang where they were greeted by a team of external facilitators for a fun-filled day of outdoor activities.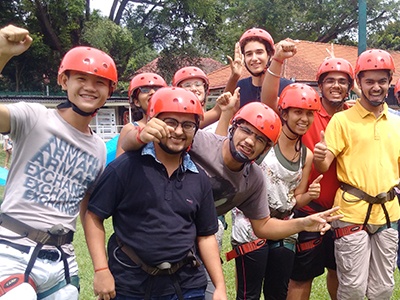 "It was a fun and enriching activity where we learn about each other, go beyond
our fears and discover new things." Devya Ramroop, Mauritius
The Objective – Making Learning Fun
The Global learning team wanted to create a session of exciting strategic teambuilding, a holistic and purposeful educational experience and of course, fun! The session included elements of SWOT Analysis and Stages to Group Formation strategized within each activity.
The activities included the "Challenge Ropes Course" the involved climbing of poles, walking across a bridge made of types, ropes and logs. There were a lot of encouragement and cheering that helped those who felt hesitant earlier, to conquer their fears.
Like what they say about great teams – One for all and all for one; No one is left alone.
The students, staff and faculty had a great bonding team, getting to know each other a little better like a big family.
At last, fellow group mates presented their certificate to each other, fostering an even stronger inter-department interaction.
At first, I felt really excited in the activity because I knew I would have a chance to work in a group so that we could pass the challenges given well. Working in group helped me to study many things such as how to be a good leader in group, encourage teammates while they were doing their tasks, supporting each other ,especially the important role of listening and observing people. I felt really good after my group could complete the challenges in the best way, then we understand each other more and become closer. It is my unforgettable memory! Hoàng Tân, Vietnam