Between 10th April – 13th April 2018, 33 students from the EMBA Mumbai Batch - 06 visited SP Jain's Dubai campus for a study tour. The students presented their Global Immersion Projects (GIP) presentations to Dr Gary Stockport (Dean – Executive MBA) and Dr. Rajashree Gujarathi (Director – Academic Services, Executive MBA) on Day 1, who evaluated and provided critical feedback.
On Day 2, students attended intensive sessions about 'The Power of Emotions in Business', 'Design Thinking for Breakthrough Innovation' and also learnt about doing business in the UAE as well as being given a comprehensive overview of Middle East Opportunities.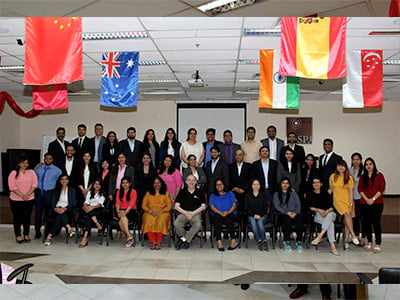 The cohort visited Dubai's old neighborhoods and interacted with Emiratis to better understand the business and cultural environment at the Shiekh Mohammad Cultural Center of Understanding. They visited key landmarks and undertook unique experiences that make up 'Brand Dubai', such as desert safari and the iconic Burj Khalifa followed by a visit to the largest mall in the world, Dubai Mall.
Day 3 comprised a team building activity at Escape hunt that evaluated their leadership, communication, organisational behavior and strategy as a team as well as at an individual level.