On the 24th of September 2016, 15 students of S P Jain's Mumbai campus travelled to the Mad Over Sports cricket field located in Hotel Shanti Doot, Dadar, to play a friendly match of cricket. As with any sports outing, the atmosphere was electric, and the excitement, palpable. The matches were to be for two hours, with seven players on one side and eight on the other – for a duration of five overs.

The grounds were located on the terrace of Shanti Doot, four stories above the ground level. Upon arrival, the teams were formed – team Flash and team Tupperware, both captained by the students. Team Tupperware decided to bat first, where some really talented student batsmen opened the game.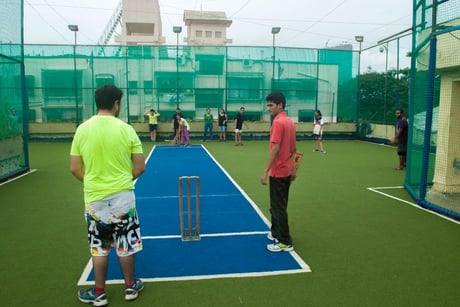 The first batsman managed to score 20 runs before he was caught out. Tupperware batted for half an hour, scoring a total of 45 runs, after which team Flash took to the pitch. Team flash won the first match, cheerfully, by 45 runs.
The second match stared with batting by team Flash. The first bowler from the opposing team, however, managed to take three wickets.

Team Tupperware started their innings with a high target of 55 runs. The woman of the match title, was won by a student, scoring 28 runs, and winning the game.

By 4:30 pm, with the matches over and everybody spent, the cohort headed home.

Very few things bring people closer together as a good game of cricket does, and one can be assured that the fifteen Jaguars who participated have formed lifelong bonds.
Click Here to see all the pictures from the event.