On 8th March 2018, students at SP Jain Dubai had an opportunity to attend a guest session by Mr. Yi Zang (Vice President, Global Value Brands, Schneider Electric). He shared his personal experiences and tips about brand portfolio management, growing international talent management across the globe, and the importance of diverse work culture at Schneider Electric. He also gave the students tips to keep in mind while applying for a job from the HR's viewpoint.
The session began with an introduction of Schneider Electric and a brief history about the company.
Did you know? Schneider Electric started its operations in mining and the steel in the prestigious Eiffel Tower was a Schneider Electric product!
Gradually, Schneider became an electrical apparatus company to an electric solutions company. It is now transitioning itself from a pure play traditional hardware to a digital and hardware company given the dynamic business environment.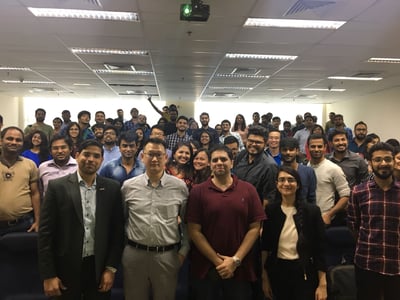 The most interesting part of the session was the piece on Schneider's people policy. An employee of Schneider Electric undergoes a process wherein their ambitions are matched with the job and focus is on utilising an employee's skill set. It offers employees a flexible work culture, flexible in its true sense which means that even the number of hours are not clocked in. It isn't about the quantum of work, but the quality of work that sets the company apart. Employee satisfaction and well-being is of paramount importance, for a happy employee will result in a happy customer.
"We want people in 25-30 age group to become VPs in 5-10 years. We want to grow people to become senior management. We encourage cross function roles – shift to different roles within the organisation, multiskilling strategy is what we strive for. High performance levels are imperative, and we continuously push people to excel and enter the high-performance bracket," said Mr. Yi Zang.
He emphasised that as a person who aspires for greatness, you should not let yourself get into a comfort zone. You should challenge yourself to learn new things and become uncomfortable, for this is the mindset that helps you in long term career development.
*This event update has been written with inputs provided by Anubhav Chopra (Student, Global MBA Program)