This year, the Bachelor of Business Administration (BBA) program of SP Jain School of Global Management welcomed around 185 new Jaguars from 27 different nationalities including China, South Korea, India, Mauritius, Mexico, Russia, Southeast Asia, and Europe, among others.

While it is their first time in Singapore for many, a large number of students are also experiencing their first time living away from home. The Jaguars of 2017 have come together for their journey with SP Jain, learning and living in three different megacities of the world—Singapore, Dubai, and Sydney— immersing themselves in various environments, cultures and situations, becoming independent global business leaders. The new Jaguars will not just interact with people of different backgrounds, but also experience these new backgrounds first-hand.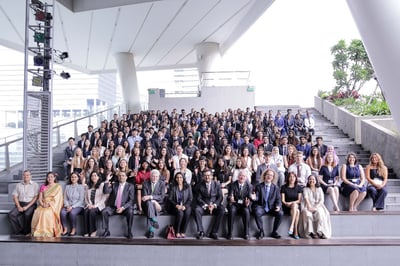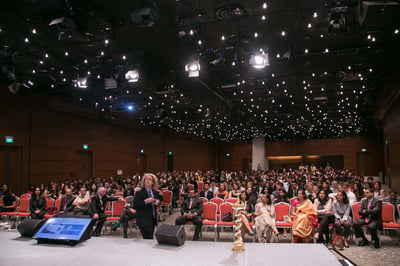 The diversity of the students within the program itself will also help increase the creativity and productivity amongst students, prepare new language skills, foster global understanding, and perhaps even help them find new ground breaking solutions to difficult problems.

The BBA Orientation of 2017 took place in the morning at The Star Theatre, an urban retail sanctuary set within a unique integrated natural environment. The event was commenced by Mr Nitish Jain (President, SP Jain), Dr John Lodewijks (Dean, Undergraduate Programs), Dr Golo Weber (Assistant Dean, Undergraduate Programs), and Ms Hagit Ben-Ari (Student Counsellor and Life Coach, Singapore), and was attended by excited students and parents bonding over newly forged friendships.
The morning session of presentations was followed by lunch, following which, the students collected their Jaguars t-shirts for an afternoon of ice breakers and team bonding games. While the students busied themselves with fun activities, SP Jain organised a parent-only interactive Q&A session and campus tour. The Orientation Day ended with a Cocktail evening, where the parents interacted with the faculty and staff.
Team SP Jain wishes all the very best for the new Jaguars who are ready to take-on this global journey to become world-class leaders.