28 September 2016 marks a start of a strategic relationship between Singapore Computer Society (SCS) and S P Jain School of Global Management, Singapore campus.
The Singapore Computer Society (SCS) is the leading infocomm and digital media professional society in Singapore.
Both parties signed the Memorandum of Understanding (MOU that allows S P Jain students with complimentary student membership, access to SCS's events, workshops, resources and network.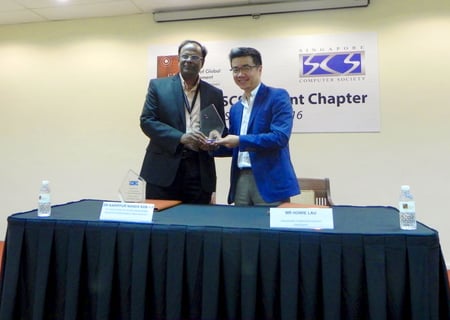 Benefits For S P Jain Students And SCS
The MOU was signed by Mr. Howie Lau, representing Singapore Computer Society (SCS) and Dr. Karippur Nanda Kumar, Associate Professor & Area Head of IT who represented S P Jain School of Global Management.. More than 50 participants witnessed the ceremony from both S P Jain and SCS.The collaboration is part of S P Jain's industry outreach initiative.
The guest dignitaries who attended the event include
Mr. Howie Lau, President, Singapore Computer Society
Mr. Ong Whee Teck, Vice President of SMSCs <<replace with SCS designation >>
Ms. Lum Seow Khun, Deputy Chairperson, SCS Student Chapter
Mr. Matthew Togher, Country Manager, IBM Banking & Financial Markets
During this event, we got to hear both Mr Howie Lau and Ms. Lum Seow Khun as they shared with passion, SCS's history and its missions. With an astonishing 2.8 events organised per week by SCS, S P Jain students are going to be spoilt with options.
Blockchain - The Next Big Thing in the Financial Industry
After the session, we had the privilege to hear from Mr. Matthew Togher who explained the concept and benefits of "Block Chain."The session was extremely interactive, made possible by an engaging speaker.
What is Blockchain all about?
Matthew brought us through the evolution of certain concepts - How the meaning of garage has changed from something from a place where you fix your car, to today – a start-up that could be sitting on the high floors of Marina Bay financial tower, disrupting the business eco-system.
To put it simply, Blockchain is the product of a great innovative thinking, a concept that could disrupt the whole information distribution pipeline.How is it applicable to our future leaders? Blockchain is like networking – the networking of technologies and the result – the reduction of time, money and coordination required updating and credible information.
In short, Block Chain helps to reduce multiparty transaction settle to nearly zero, reduce overheads thus saving costs and lastly, reduce in interfering and collision of data.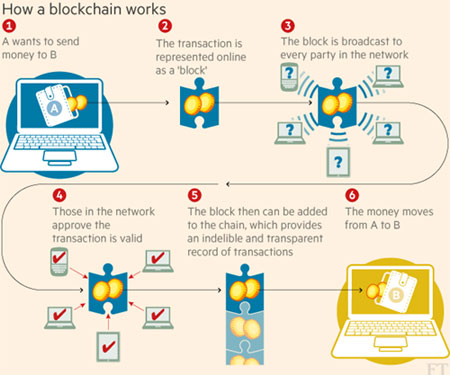 (Credits weforum.org)
Blockchain's technology is similar to that of Bitcoin but just able to do more applications
What happens if you can put the complete information online – smart contract? The system will require fewer people to travel around the world just to get things signed or information conveyed.
With such available technology, that is, of course, companies are pumping funds to hype up security systems to have data encrypted, secured – preventive measures to prevent cyber crimes.
The End Is the Start of a New Beginning
The session was like an appetizer for the relationship between SCS and S P Jain. We hope that our students can learn beyond Block Chains but also the many future exciting trending technology topics and knowledge to come.

About Singapore Computer Society
The Singapore Computer Society (SCS) is the leading infocomm and digital media professional society in Singapore.
Established in 1967, the Society has a thriving membership base of over 32,000 members today. They have a total of 14 specialist groups that promote mind sharing of case studies, experiences and latest trends and emerging technologies. They continue to work hard to establish a strong reputation as the voice of Singapore's infocomm and digital media community.
SCS serves their members by adding value to their professional and personal development aims, with the overarching mission of driving the growth of Singapore's industry leadership in the region.