Being away from formal education a long time, entering a Business School is always filled with nervousness, excitement and of course the sheer aspiration to be one amongst the best. The EMBA Batch 05 Orientation in Singapore reflected all of this and more in the students. Held from the 17th to the 20th of February, 2017, the EMBA Mumbai cohort left for Singapore on 17th February.
The EMBA journey started quite literally for the students at the Airport entrance, setting the tone for the tour. The cohort's enthusiasm was further elevated by the previous EMBA batch who gave the new students an insight into the course and gave them tips on how to maintain a great work-life balance while managing both studies and work.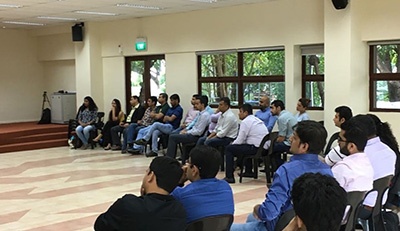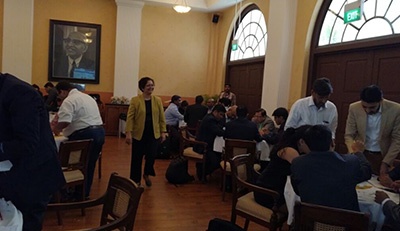 The students stayed in a hotel quite close to the campus and retired for the day. Day 2 began with an introduction by Prof Veena Jadhav, which was followed by a talk on Design Thinking and the idea of innovations by Dr C J Meadows. Post lunch, the cohort went Dragon Boating, which was both fun and educational. The teams explored various plans and worked together to achieve the goal of winning the race. The cohort then visited the Singapore Flyer, and had a glimpse of a man-made wonder. Day 3 began with workshops and sessions. Besides the City Tour, the rest of the day was spent at Gardens by the Bay. Day 4 was again filled with many thought provoking sessions and case studies.
Filled with various fun and educational activities, the EMBA Mumbai cohort had a great start to their voyage with the Orientation in Singapore. Belonging to different corporations from various industries, they came together to start their expedition together.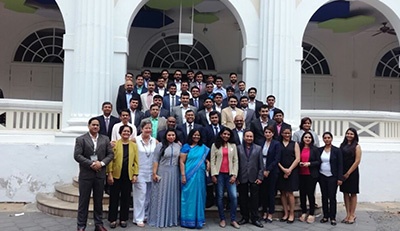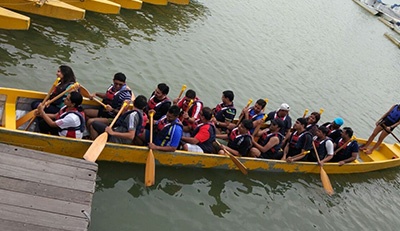 "The stay arrangements were just amazing, just the kind we needed after a closed capsule travel earlier for over 5 hours. Archana, Manish, Nikita and Hemal ensured that things were going well throughout the tour and we are thankful to the whole S P Jain group, including Dr. Rajashree, that they handled the tour exceptionally well." – Student, EMBA 05