On 22nd September 2016, S P Jain hosted Mr. Marcus Alves, for a guest lecture organised by the Corporate Relations team. Marcus is the Vice President, Revenue Management and Training Business, of the Asia Pacific region of Kraft Heinz. He spoke to the students about why Behaviour Economics is really Marketing Science.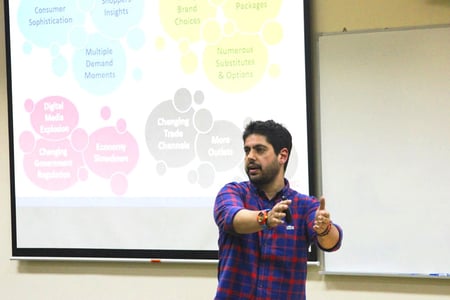 Understand the Power of Behaviour Economics
Marcus shared various marketing strategies through his experiences. The session highlighted the importance of how the right packaging, pricing, and trade margins upon integration with channel and geography could create a consumption occasion.

The students learnt that marketing is not about selling more; it is about convincing the consumers to pay more. The various products, which a branded house produces, are usually similar in composition, but their positioning is altered according to the targeted customer segment.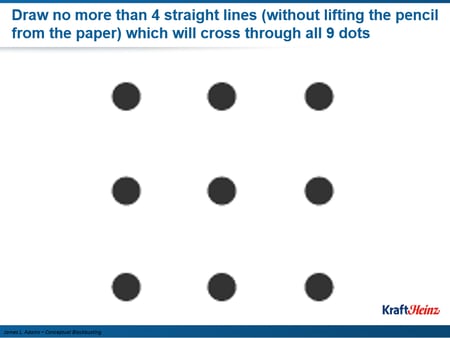 A simple activity in which Marcus asked the students to connect all dots

Reduce the Volume, Increase the Price
One of the case studies Marcus shared was about Coke's presence in Indonesia's soft drink industry. Coke had a 95% market share. How did it achieve market domination despite being priced as one of the most expensive drinks?

Indonesia has a population of 220 million, but most drink water instead of soft drinks. They have a local competitor, AJE, who priced its soft drinks at half of what Coke had strategized. It took Coke five years to come out with a slimmer bottle that makes it more affordable for those who earn less than four dollars a day.

Prioritise Local Understanding, Gain the Competitive Edge
One of the questions raised was why big companies such as Coca-Cola and PepsiCo buy local competitors in various geographies. Marcus explained that this acquisition allows big brands to price their product even lower and get closer to the local communities. This makes the product more appealing to the local market. Other queries involved questions on how pricing strategies are adopted in different emerging markets etc.

It was a remarkable and interactive session especially with an entertaining and passionate speaker like Marcus. His session indeed helped the students learn a lot from not just his experiences, but also the importance of the economics of consumer behaviour.

"There is always a difference in what we learn in the four walls of a classroom and how the real world works. Today`s seminar was our one step into the working corporate practices. Mr. Marcus Alves made it evident that we need to think outside the box while still using tools from the box. He shared several case studies and business models which provided viable solutions to FMCG related pricing strategies." – Student, MGB 2016

About the Speaker
Marcus Alves is the Vice-President of Revenue Management and Trading Business at Kraft-Heinz Asia Pacific. Marcus is responsible for the revenue management and commercial performance of the region where he partners with BU Presidents to create strategies and processes for the optimal balance of revenue, volume, share, and profitability for markets across the region. Marcus is also the Managing Director of South East Asia Unit (ASEAN).

Marcus has been delivering sustainable business results for more than 15 years in blue-chip FMCG companies such as AB-InBev, Kimberly-Clark and PepsiCo at different parts of the globe. He has a solid acumen of business practices in both the emerging markets such Brazil, Central & Eastern Europe, China, Pakistan, Egypt, and Southeast Asia, and developed markets as Australia, New Zealand, South Korea, Japan, and the USA.