The Emirates Environmental Group (EEG) hosted its 17th Inter-University Public Speaking competition on 23rd and 24th November 2017. With 4 categories and around 60 teams competing from across the Middle East ranging from Palestine to Jordon, the competition was dedicated to sustainable issues. The topics for discussion included:
Sustainable balance: People and the Planet
Quality Education: Roadmap to Sustainable Development
The Future of Power, and
Sustainable Food Systems – Understanding Food Security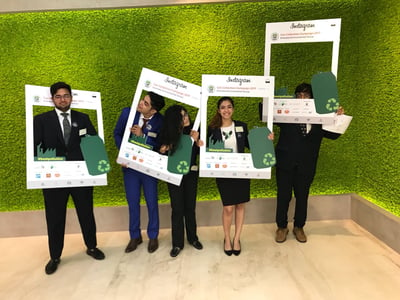 A team comprising of five undergrad SP Jain Dubai students, namely – Tanushree Kumar, Amartya Majumdar, Divya Shishodia, Abhisyant Anasapurapu, and Saras Sachdev represented the school in the first category titled, "Sustainable balance: People and the Planet." The students made the school proud with an impressive presentation by winning the second runner up in their category, becoming the only team from Dubai to appear in the top three for any of the categories.
"I loved the topics and it was a stellar platform to see the creative solutions of the young minds of GCC," Divya Shishodia (BBA student) while discussing the experience.
* This Event Update has been written with inputs provided by Tanushree Kumar (Student, BBA Program)