Creating Awareness of Physical and Mental Health at SP Jain Singapore Campus
This year, SP Jain was invited by the Indian High Commission to be a venue sponsor of its 3rd edition of International Day of Yoga (IDY). The event took place on Sunday, 18 June 2017 at SP Jain's Singapore Campus.
The complimentary session included guided yoga exercises and a short talk on fitness and wellness. The event aimed to promote physical health and mental well-being as well as harmony among people. Yoga has multiple benefits and teaches us how to diminish stress and inculcate a healthier lifestyle.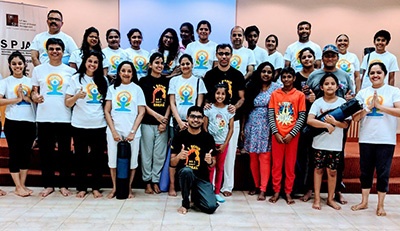 Participants came as early as 7am to collect the yoga mats and event t-shirts. The hall was filled with excitement and people could be seen practising even before the session began. The SP Jain campus also provided the natural environment for the yoga session. Whether you were experienced or brand new to yoga, everyone found it easy to follow and learn.
About International Day of Yoga
UN International Day of Yoga was celebrated for the first time on 21 June 2015 all over the world, in 192 countries, following the adoption of a Resolution (69/131) by the United Nations General Assembly on 11 December 2014 (more information is available at http://www.un.org/en/events/yogaday/).