On 12th February 2017, the GMBA cohort specialising in IT and a few selected Undergraduate students keen to pursue technology and business visited the Microsoft Technology Centre located at Dubai Internet City for an interaction with the Developer Experience (DX) team to understand the business overview of Microsoft and the key role in plays in the UAE & GCC market.
Microsoft Developer Mr. Ahmed Ebrahim shared that the DX department's role is primarily responsible for the engagement of local society with Microsoft. One fun fact that students learned about the team was that this is the only team which is not driven by sales quota in the organisation.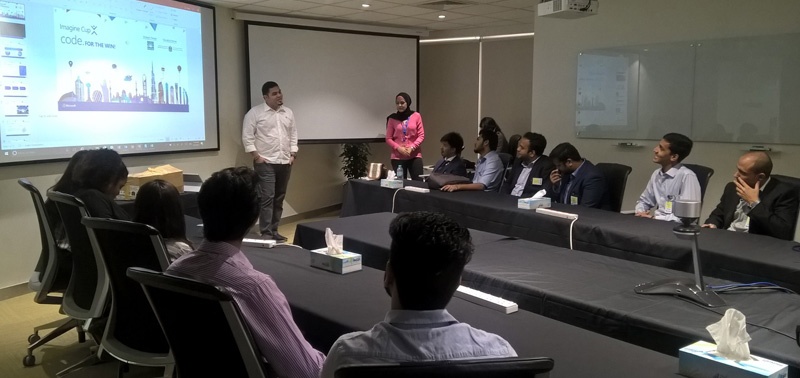 The session highlighted Microsoft's mission to enable people and businesses throughout the world to realise their full potential along with related initiatives to support the innovative growth in the region.
The interactive session started with student questions on Microsoft Azure cloud services in the region. The DX team explained the cloud market dynamics and the sales perspective of Microsoft products in the UAE region. The discussion then led to questions about how Microsoft addresses the security issues which led to the discussion of Blockchain.
Students learnt about Microsoft International University competitions that aim to solve the toughest business issues with technological solutions. The visit also stressed on Microsoft's philosophy of nurturing young innovators across the globe. Students were educated about the Microsoft student partnership program and career opportunities that Microsoft offers in the region.