SP Jain School of Global Management's Master of Global Business (MGB) September 2018 cohort, specialising in Global Finance, visited Noor Bank in Dubai on 15th November 2018 as part of their global learning exposure to understand the role and growth of digital transformation in banking and the growing global trends of Islamic banking.
As the digitisation of banking and financial services sector gathers momentum across the world, in the Middle East and North Africa (MENA) region, the UAE banks have taken the lead in adopting digital solutions, according to a recent study by Al Masah Capital. To have the cohort realise the evolution in the banking industry, especially as the shift takes place in the UAE, was an important one given that the cohort is studying unique aspects of the city and comparing it to global contexts as they move forward in their tri-city journey.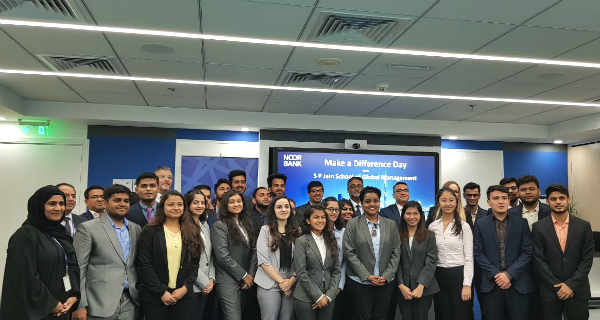 Noor Bank, established in January 2008 in Dubai, is a leading Sharia-compliant bank in the UAE and is owned by Noor Investment Group, Emirates Investment Authority and by individuals and corporations in the UAE. Being a young bank of 11 years, it has a network of branches across the UAE in the emirates of Abu Dhabi, Al Ain, Dubai and Sharjah.
The session began with questioning and understanding the term 'digital' and how digital transformation is getting to be a more fundamental way of living in our contemporary society. In the context of banking and finance, digital transformation is about more than just providing online and mobile functionality. Traditional banking providers need to combine digital speed and convenience with human interactions that are both thoughtful and caring at crucial moments in the customer journey.
The interaction allowed for a conversation and sharing of significant insights by key senior management representatives from Noor Bank, namely: Mr. Noman Rasheed - CIO; Dr. Adnan Aziz - Head of Sharia; Mr. Khaldoun Al Khalidi - Head of Infrastructure; Mr. Sanjay Aggarwal - Head of Enterprise Banking Platforms; Mr. Chandrashekhar S - Head of Enterprise Data, Data Architecture & Integration Services and Ms. Amina Al Hassan - Senior Manager Quality & Controls.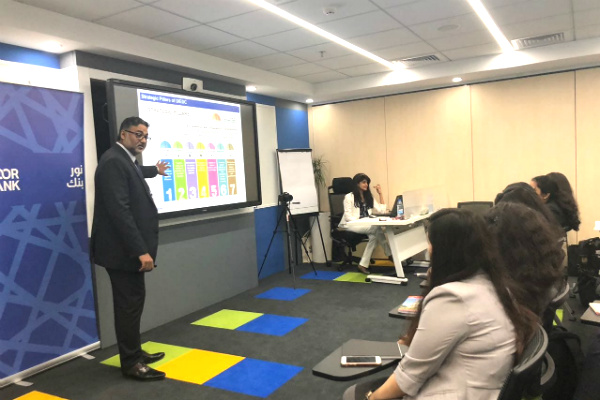 Sharing some key takeaways from the presentation and interaction, Angad Shah, MGB Sep'18 Global Finance student, said, "I enjoyed learning about Islamic banking and what the Sharia Law means in the banking world. Dr. Adnan Aziz enlightened us on the Islamic banking system and few facts and figures related to it: for these banks are not just confined to Islamic people, but it is open to all people irrespective of caste or religion, a non-Muslim person can be an employee or their customer. He talked about the Dubai Islamic Economy Development Centre (DIEDC) and its seven strategic pillars where Noor Bank falls in Global reference & economic engine of Islamic finance, strategy. He shared the concept of 'Riba' on the basis of which the Islamic banks don't charge interest on money transactions. He also shared the statistics relating to Islamic banking like Islamic banking operations are carried around 75 countries, the core market being Bahrain, the UAE, Saudi Arabia, Turkey, Malaysia, Pakistan, Qatar and Kuwait. Also, its operations are around 2% of Global banking and financial institutions operations that amounts to around 2.2 trillion USD of give and take of money."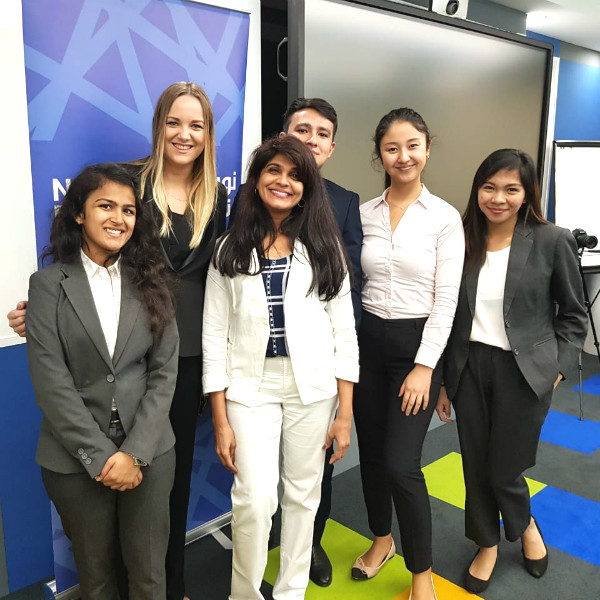 Mr. Noman Rasheed explained key concepts of technology used in the banking systems like digitalisation and digitisation, cloud computing, cybersecurity and blockchain, among others. Mr. Sanjay Aggarwal, Mr. Khaldoun Al Khalidi, Ms. Amina Al Hassan and Mr. Chandrashekhar S shared important information about technology and security issues and its types. Various stages of customer life cycle were depicted and the importance of innovation in today's world, in every industry, was explained by giving real case study examples. The session was interactive and many student questions were answered.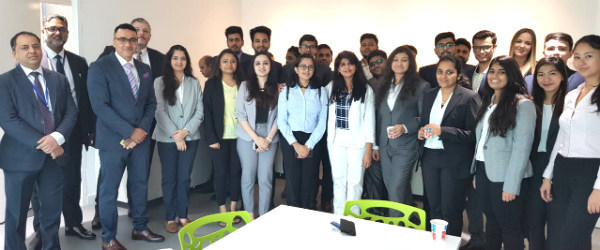 "It is interesting to learn how banks in the UAE are responding to the digital shift in consumer preference by stepping up their investment in digital innovation, focusing especially on improving their mobile banking security and user experience," said Nikolina Trcak, MGB Sep'18 Global Finance student.
"Industry visits, such as these, are important to any student undergoing professional education and grooming to become a global leader for they are an effort to bridge the gap of practical exposure that helps students gain first-hand information regarding functioning of the industry that provides an opportunity to plan, organise and engage in active learning experiences both inside and outside the classroom and provides an insight into the real working environment of the industry. I am thankful to SP Jain School of Global Management, Megna Kalvani Ma'am and the esteemed representatives from Noor Bank for broadening our perspectives and knowledge – they really made a difference!" said Angad.