There is no bigger discussion than how companies are tackling the enormous challenge of integrating Human & Artificial Intelligence in order to build a sustainable organisation for the digital economy. Exploring this topic, SP Jain Sydney, along with NSW Business Chamber, hosted the annual HR Summit on 29 May 2018.
The summit started with a keynote address by Deepak Nangia (Corporate VP & Chief Customer Officer, Capgemini Asia Pacific & Middle East), who defined "Industry 4.0" at a high level before providing some deeper analysis around the changing landscape of the Top Market Cap companies globally and locally from 1990 to the present.
The first panel including Andy Bateman (National Lead Partner, Innovation Strategy, Deloitte), Nick Dunford (CEO at CoVentured), and Jeff Frazer (Head Robotic, Intelligent Process Automation Consulting, Cognizant) then discussed the automation-driven job losses, cutting-edge innovation for large corporate entities, and AI enabled Robotics, among several other topics.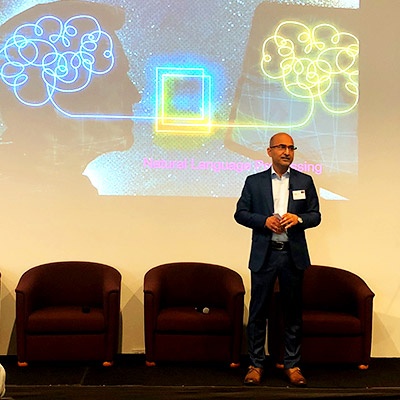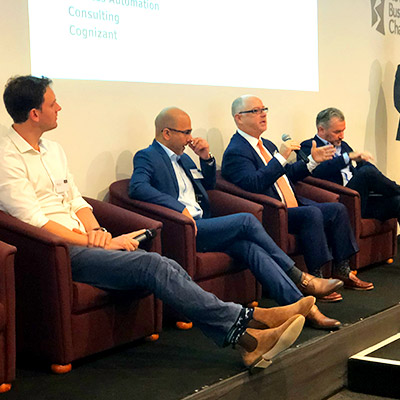 The second keynote address was delivered by Brady Jacobsen (Head of Operations, Velocity Frequent Flyer, Virgin Australia Group) who spoke on the complexities and nuances of digital transformation from his experiences at Australia Post, NBN, Telstra and, currently, Virgin Australia. Following the address, the second panel tackling the people dimension in this 'People versus Technology' debate then assembled which included Mathew Scott (HR Director, American Express), Julie Hyam Elliott (Former CEO, Bank of Sydney and current Director, Chair Audit and Risk Committee, Member Remuneration Committee at Australian Invoice Finance) and Vanessa Gavan (Founder & Managing Director, Maximus International).
Team SP Jain thanks Amanda Currie (Event Producer with the NSW Business Chamber) and John Miles (CEO & Head of Campus – SP Jain Sydney) for coordinating a successful summit.