As the world evolves, the way we do business is changing. One of the key features of the 21st century business world is Smarter Customers. This monumental difference has brought about a change in the way businesses approach customer service.
On 20th November 2017, our students at the Sydney Campus had the fantastic opportunity to be in the midst of Dr John Fong, the newly appointed Singapore Head of Campus, who delivered a guest lecture on the importance of serving these smarter customers with a view to improve the company's bottom-line.
Having lived and worked in Singapore, Sydney, Dubai and Miami, Dr. John Fong holds diverse experience, specialising in a variety of fields such as Hospitality & Tourism, Business Development, Corporate Communications, International Relations, Law Enforcement, and Education. Dr Fong also worked as the President of EuroCHRIE (European Council on Hotel Restaurant & Institutional Education), the peak academic body that represents Hospitality and Tourism Educators in Europe, Middle East and Africa.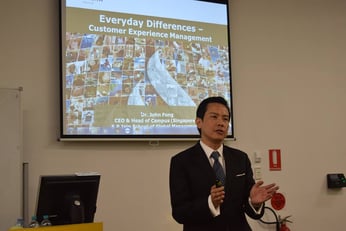 Dr. Fong delivered a guest lecture on Customer Experience Management (CEM). Using Jumeirah as an example, this presentation gave the students an overview of how a luxury hotel management company undertakes Customer Experience Management and constantly strives to exceed expectations.
" Having lived in Dubai, I have been to the Jumeirah chain hotels many times. I have always seen the excellent service they provide from a customer's point of view. Dr. Fong shared key insights and made me look at what goes behind providing this excellent service. It was a great learning experience." -Bhakti Pawani, Student, BBA Program