Today, technology has changed food from being not only sustenance but also a part of our lifestyle.

Some weeks back, Emma Heap – Managing Director of Foodpanda Singapore, shared how 'Digital Commerce' has impacted the food and beverage industry. With a high spirit that was evident throughout her seminar, she introduced the firms Rocket Internet and Foodpanda and also explained how it's like to work for them. To summarise Rocket Internet in one line, they are not investors, but builders!

With a focus on markets other than USA and China, especially on the Southeast of Asia, Rocket Internet and Foodpanda are aiming to disrupt the internet based business. Emma also shared insights on how today's consumer needs and wants differ from before because of the changes that internet has brought, especially when it comes to food consumption.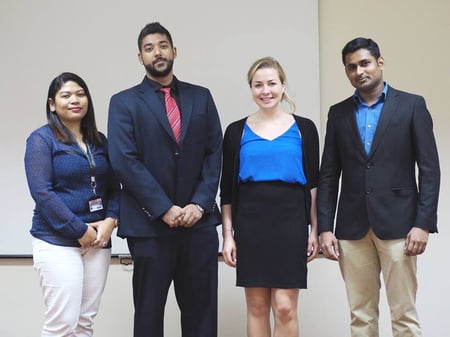 How Technology Has Shaped How We View Food Today

The global food takeaway market is estimated to be worth 90bn euros (est. 99.3bn USD) by the end of 2019. At present, 75% of the consumers are based out of USA and China. Also, 74% of those people use mobile phones.

Another important fact to consider is that over the years, mobile technology has heightened consumers' expectations of both convenience and quality. The rising popularity of sharing of food images on social media, reviews about eateries and restaurants, and uncountable food choices have now culminated to define who you are.

67% of the food purchased online, are in fact, based on reviews.

To implement key adaptations and reach out to the millennials, Foodpanda has advised their partner restaurants to have an online presence – websites, social media, etc.

The Importance of Improving Core Competences
When it comes to focusing on core competencies, Emma explained the importance of having the correct job fit. For example, you cannot have a chef who has little knowledge of social media, to market through social media. This attempt will cause more loss of time and effort with one trying to figure out how to manage it. Instead, he or she could just focus on cooking while Foodpanda caters to the gap of reaching out to the market through an online platform.

Emma also contended that prospecting the future forms a crucial aspect of business too. For instance, she mentioned that nearly 5.4 million Singaporeans make about 3.1 billion updates per month on social media. Also, 82% of the customers base their buying decisions on where the food comes from. This health consciousness of the people is also evident in the increase of organic food options in various restaurants and retail outlets in Singapore. Hence, recognizing this want of the people and catering to the present demands of the business while also shifting with the trends towards the future at the right pace is how Foodpanda functions.

The perspective that differentiates Foodpanda is that they do not sell food but convenience!

Understand your consumer, create better business
At the end of the day, Shivani Pandey from the MGB 2016 batch mentioned that she has learned how effective understanding of the consumer emotions retrieved from databases can create enhanced opportunities for a better business.

"Competition is a good thing, and it takes every company up their game. But to persuade the customers to choose you, you can either throw hundreds of thousands of dollars into marketing, or you can understand what customers need and sell them a good experience. And so, in Foodpanda, they believe in running the company with their clients' experience as the priority to be catered to. And that is how one can deserve to win the market if there is to be a winner".
About the speaker
Emma Heap is the Managing Director of Foodpanda Singapore, the leading online food delivery marketplace in Southeast Asia. Before this, she worked for five years at Groupon after graduating from the London School of Economics. In her role, Emma ensures sustainable and profitable relationships with customers and merchants to grow the online food ordering industry in Singapore.

About Foodpanda
The Foodpanda group is a global mobile food delivery marketplace headquartered in Berlin, Germany, and it is operating in 24 countries and territories including India, Pakistan, Russia, Bangladesh, Hong Kong, and Singapore. The service allows users to select from local restaurants and place orders via the mobile application as well as the website. The company has partnered with over 40,000 restaurants.