The BBA Jags visited the facility of the well renowned Industrial conglomerate Godrej & Boyce Mftg. Co. Ltd to better understand how Indian corporate houses address the triple bottom line issue through their CSR initiatives.
Godrej and Boyce is a 100+ year old holding company of the Godrej Group with a presence across 14 diverse businesses. As the Jags started to walk across this vast expanse of land area, they were left wondering as to whether they were indeed inside an Industrial zone or in a landscaped green oasis given the dense lush green cover.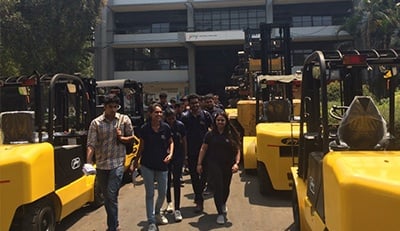 BBA Jags come out of the Forklift training area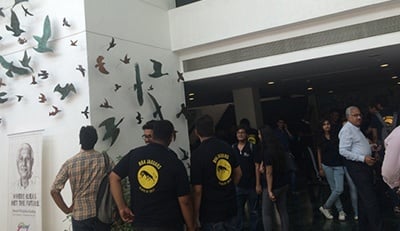 BBA Jags are aiming to soar into the skies just like these birds
After a briefing session in the morning by the Head of the Corporate Training Program, the Jags were then taken to the Welding area for a site tour. What caught their immediate attention was the fact that there were a substantial number of women welders at the workshop & that the workshop has had zero accidents since 2010. They were then taken to the Forklift training area & were again pleasantly surprised to learn that the first batch of 17 female forklift operators had successfully passed out from the Institute in recent times.
After having lunch at the state-of-the-art IGBC LEED Platinum rated building canteen, the BBA Jags were taken to a large conference area where they prepared a CSR presentation, which was prepared with no access to the internet. In a nail biting finish & by a whisker of a single point, one group emerged as the winner & was awarded a CSR trophy for "Best CSR presentation". However, technically speaking, there were no losers since the Head of the Corporate Training Program surprised our BBA Jags by suggesting that the ideas created by most of the groups were likely to be incorporated by Godrej when they set out to launch their Marketing campaigns on CSR.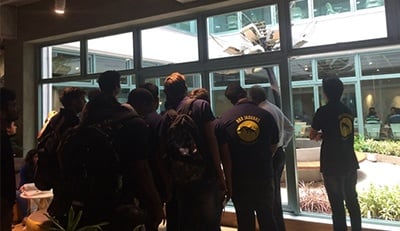 BBA Jags marvel at Jeremy Mayer's creation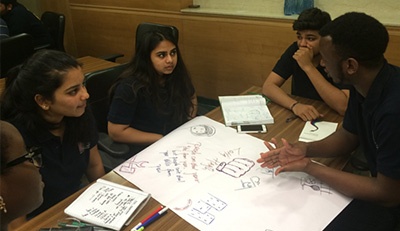 Engrossed BBA Jags preparing for CSR based competition @Godrej & Boyce Mftg.Co.Ltd
The evening ended with a visit to the famed "Hubble" area which has been modelled around the Google Headquarters area & where students munched over snacks & refreshments & marvelled over Jeremy Mayer's creative sculpting works.
Godrej was an eye opener in how CSR can be such an integral part of an organisation's operations. – Amartya, BBA
It was very informative and a very interesting visit. the various sustainability practices followed by the organization helped apply our knowledge to practicality and widen our understandings. furthermore, the varied programs and undertakings were intriguing as outsiders and insightful in understanding the dynamics of the corporate world. the interactive activity helped surge a thought process of applying the Godrej thinking to our lives. - Malaika Menon, BBA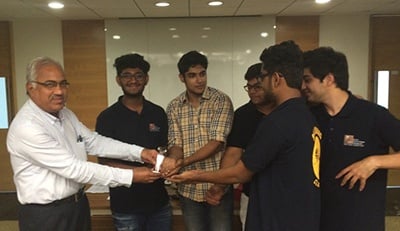 Winners of the Best CSR presentation trophy @Godrej & Boyce Mftg.Co.Ltd
It was an amazing experience as we got a hands-on experience of what we learn in the class. – Student, BBA
It was helpful in learning about CSR practices in the real world. – Vishwa Golecha, BBA
The Godrej visit was very interesting and informative. we got the opportunity to get an insight into their CSR program. I was very impressed to see that even they are taking a step forward for women upliftment program. Overall, it was a good experience for all of us. – Jui, BBA