SP Jain School of Global Management's world #12 ranking in the Forbes list of the best international 1-year MBA programs has been featured in the Australian Financial Review, a leading source of news for Australia's business and investor community.
The article titled 'Parramatta business school hits Forbes MBA list' was published on October 14, 2019, in the print and online editions of the Australian newspaper which has a readership of 2.7 million.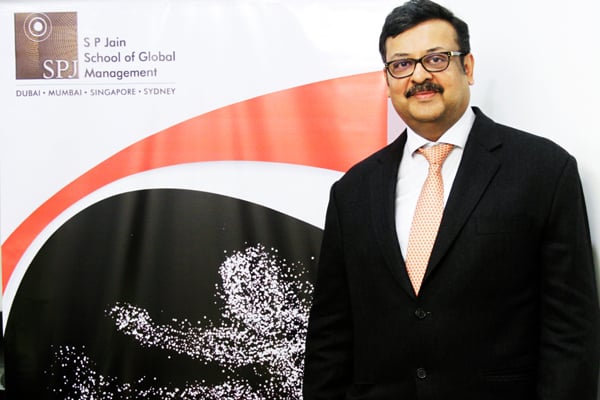 Nitish Jain, President, SP Jain School of Global Management
Nitish Jain, President of SP Jain Global, spoke to the Australian Financial Review about what makes the School's one-year Global MBA program stand out. He shared how the program's tri-city model of studying and living in Dubai, Singapore and Sydney helps students gain experience in three different business environments, connect with local businesses and work on real-world case studies.
''We have students from over 15 different countries in our postgraduate classes and this adds a lot more depth and dimension to the learning experience,'' said Nitish Jain.
He also highlighted why the one-year MBA has become more popular than the two-year course.
"The cost [of two-year degrees] is way too high and not compensated enough by higher salaries. Moreover, students want more flexibility and taking two years out of work to study is just not possible in today's competitive job market." He added that one-year courses are designed to be efficient, accelerated and rigorous, without any drop in the learning quality or academic experience.
Our latest Forbes ranking has also been covered by several other media publications around the world like The Times of India, ET Panache, Hindustan Times, Hindu Business Line, Mid-Day, The Week, Business Today, Business Insider Singapore and Yahoo Finance.
Our flagship Global MBA program climbed four places to be ranked #12 in the world by Forbes, ahead of Hong Kong University, HEC Montreal, Erasmus (Rotterdam), Cass and Hult.
Forbes' biennial ranking of the world's best international MBA programs is based solely on the return on investment achieved by business school graduates. This year, the Forbes ranking compared the earnings of the Class of 2014 in their first five years post-MBA. SP Jain Global's Class of 2014 reported a net gain of USD 61,300, even higher than the 2-year MBA programs of NYU, USC, Georgia Tech, UNSW Business School, Schulich School of Business, Penn State and other top international business schools.
The Forbes MBA rankings, along with Financial Times and The Economist, are among the most prestigious MBA rankings worldwide, and SP Jain Global is the youngest business school in the world to be featured in all three.