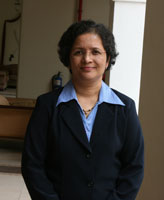 Assistant Professor of HRM & Assistant Dean - Executive MBA (Singapore)
Education
Master of Management Studies (Human Resource), Jamnalal Bajaj Institute of Management Studies (1995)
Bachelor of Engineering (Electronics), Victoria Jubilee Technical Institute,Mumbai University (1993)
Subject Taught/ Student Project Mentor
Organizational Behaviour

Human Resource Management

HRM Teamwork

Leadership
Talent Management
Strategic HR Consulting
Mentoring and coaching
Academic experience
Assistant Professor of HRM & Assistant Dean - MBA (Executive),

(2008 - current)
Administration experience
Director of Industry Interface Projects (2010 - current)
Responsible for establishing strategic alliances with key MNC, SME and not-for-profit firms in Singapore to promote collaborative applied research as part of academic program. The role involves proactive planning and evaluating partnerships, assessing needs and managing student research engagements by collaborating with senior and mid-level business leaders.
Professional training
Case - Teaching workshop – Harvard Business School, Singapore, 2014.
Fellow – Team Based Learning program by Duke-NUS, Singapore, 2012.
Executive education experience
Leadership & Strategy Program for Visa International, Singapore.
Leadership Program for Nigerian healthcare professionals, Singapore.
"Driving Innovation and Productivity through People Practices" Singapore Business Federation, Singapore (June 2010)
"Aligning Total Rewards and Organizational Goals." Singapore Business Federation, Singapore
"Linking Process Evaluation for creating career tracks in a BPO." Workshop for line managers of a leading global telecom company, Mumbai.
"Creating & sustaining high performance teams." Management Development Program for Line Managers for a leading online trading company, Mumbai.
Corporate experience
Senior Manager HRM, Cyberlog Technologies International Pte Ltd (2005-2008)
Consultant, Cerebrus Consultants (1999-2005)
Associate Manager HMR, Qualcomm Inc (1999)
Deputy Manager HRM, Essar Oil Limited (1995-1999)
Consulting experience
Orange
Hero Honda Motors Limited
Maruti Suzuki India Limited
WNS
ICICI One Source
SGS
Sharekhan
Affiliations & memberships
Member of the School Management Committee – Singapore School for the Deaf.
Member – Board Match and mentor for leaders for Center for Non-Profit Leadership (CNPL).
Professional Member – Singapore Human Resource Institute (SHRI), Singapore.