SPJ Toastmasters Club – Dubai completed their 12th meet on 9th September, 2017. Unlike the previous meets, the 12th meet also included attendees from SP Jain Dubai's BBA cohort, bringing a lot of youth and vitality to the group.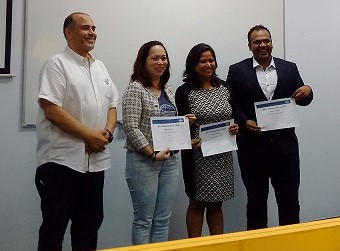 The meeting was exceptional and full of learning, and included project speeches, debates, and an impromptu table topic session. The theme of the day was 'Reinvent Yourself', which was explored by the TMOD Attul Sreenath from the EMBA-39 cohort. The session also hosted the second round of the internal debate contest as the members competed to go to the finals. Dr. Gary Stockport (Dean – EMBA) attended the meet and encouraged the winners. The winning team consisted of:
Constructive Speaker - TM Namitha Ashok (EMBA-35)
Rebuttal Speaker - TM Attul Sreenath (EMBA- 39)
Summarizing Speaker - TM Parmita Debnath (SPJ Staff)
Hearty congratulations to the winning team who will be representing SPJ Toastmasters Club at the Area and Division Contest, organised and monitored by TMI. Team SP Jain wishes you the very best.